Study, work or travel in the UK. British culture and life.

A guide to Brighton & Hove
---

SUMMARY

A popular and fashionable seaside resort. In summer, people enjoy relaxing on the beach and visiting the pier. There are several amusement arcades. The city's pubs and clubs create a lively and youthful nightlife. It is only one hour by train from London, and has good links to Gatwick Airport.


| | |
| --- | --- |
| Brighton Pier | The Royal Pavilion |
| Seagull (waiting for a bus in Churchill Square!) | Seaside town food |
Back to top
---
FACTS & FIGURES


Subject
Name
Population:
255,900 (over 60 years old: 21.2%)
Region:
East Sussex, in South-East England
Location:
See: map
Visiting from abroad:
The nearest major international airport is at Gatwick. For further information, see: Travel/Transport/Air
Ferry services from France operate from Dieppe to Newhaven, or from Calais to Dover
Visiting from London:
Brighton is 80 kilometers south of London
By train: 1 hour from Victoria station or from a Thameslink station in London (eg: London Bridge or King's Cross Thameslink). Cheap Day Return ticket (off-peak) with a Young Person's Railcard (2002): £7.90 from a Thameslink station, or £9.90 from Victoria
By coach: 1 hour 45 minutes from London's Victoria coach station
Tourism:
The 11th most popular town in the UK for overseas visitors in 2000
Language schools:
20 schools which are recognised by the British Council (2002)
---

FEATURES

- The two former towns of Brighton and Hove were merged in 1997, and given the title of a 'city' by the Queen in 2000
- A popular place for tourists since Victorian times. Known as "London by the sea"
- 7 miles of beach, although this is stony (not sandy)
- Brighton Pier (also known as Palace Pier) is an entertainment centre which extends over the sea, offering amusement arcades, fairground rides and fast food. It looks particularly attractive when it is lit up at night
- The Royal Pavilion is a white stone palace with an Indian appearance, completed in about 1820: http://www.royalpavilion.org.uk
- There is some attractive Georgian and Victorian architecture
- It can become overcrowded in summer, due to the arrival of many tourists and language school students taking short summer courses. It is also a conference centre, so can be busy when there is a major event.
- Typical seaside town features: pier, bingo/amusement halls, fish and chip shops, beach deckchairs, shops selling postcards and brightly coloured sweets
- The town is known for its relaxed, easy-going atmosphere. It is a popular place for gay/lesbian people.

Back to top


---
ENVIRONMENT
Being a town on the south coast, Brighton enjoys warmer and sunnier weather than most of England, but sea winds can be strong. Seagulls can usually be seen and heard; bird droppings are common. There can be a lot of rubbish in the city during the summer months. There are some beggars and homeless people on the streets. The sea can be polluted and is often quite cold, although swimming and water sports are popular on warm days. There are many attractive landscapes close to the city - beaches, cliffs and green hills.

Brighton attracts many young people and holidaymakers, late night noise / drunken behaviour / drugs can be a problem, especially near the pubs and clubs. Some people come to Brighton looking for holiday romance. Be careful to avoid sunburn if sunbathing. Sometimes there can be trouble between local young people and tourists or language school students. Operation Columbus is a police campaign which tries to protect visiting students: see: http://www.sussex.police.uk/youth/columbus.

In 2001/02 there were 17.3 offences of violence against people per 1,000 people, much higher than the English average of 10.6.
In 2000, Brighton and Hove was ranked the 94th most deprived out of the 354 districts in England.
Because there are many tourists and students in summer, there can be a shortage of friendly, centrally located host families.
Accommodation may be cheaper than in London/Oxford/Cambridge.

Back to top

---

ENTERTAINMENT

Brighton has more places of entertainment than many other small cities. It has plenty of interesting shops, including arts and crafts. There are lots of tearooms and many types of restaurants (including many cheap ones, including fish and chip shops). There is a lively nightlife, although as in most parts of England pubs close at 11pm and clubs close by 2am. Water sports are available on the sea, and activities along the seafront include rollerblading, basketball and beach volleyball. There are several cinemas as well as theatres (the Theatre Royal, the Komedia Theatre), a concert hall (Brighton Dome) and museums/art galleries (the Brighton Museum and Art Gallery, Hove Museum & Art Gallery).

Local events include:
Brighton Festival and the Fringe Festival: a 3-week festival of theatre, dance and music in May: http://www.brighton-festival.org.uk. This is the second largest arts festival in the UK (the largest is the Edinburgh Festival).
London to Brighton veteran car run: an event on the first Sunday in November in which cars built 100 years ago are driven from London to Brighton. See: Ideas/Album/VeteranCarRun.


Nearby attractions include:
Brighton Marina - an attractive area of boats, shops and restaurants 2km east of Brighton city centre
Preston Manor - an old manor house north of the city (see: http://www.prestonmanor.virtualmuseum.info)
Brighton Racecourse - horse racing on certain days between April until November: http://www.brighton-racecourse.co.uk
The Sussex Downs - there are beautiful walks along the South Downs Way, a long footpath with views of the hills and the white chalky cliffs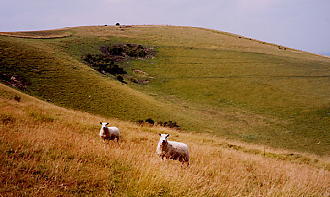 The Sussex Downs
---
TRANSPORT
Bus: The bus station is centrally located in Churchill Square. Travelling by bus can be the cheapest way to visit other towns along the south coast. Some buses run late in the evening; if you are thinking about living far from the centre of town, you should check the local timetables. See http://www.buses.co.uk.
Car: Roads are not as busy as in many cities. Hiring a car can be a convenient way to explore the local countryside.
Train: The railway station is close to the city centre, within walking distance of the beach. There is a frequent and fast train service to London, as well as services to other south coast towns
Bicycle: The town and local area is hilly, so cycling is difficult.
Walking: Brighton's town centre is compact, so it is possible to walk around the town during the day.

Back to top
---

FURTHER INFORMATION

Tourism
South East England Tourist Board: http://www.seetb.org.uk
Brighton tourist information: http://www.visitbrighton.com and http://www.brighton.co.uk

Local government
Brighton & Hove council: http://www.brighton-hove.gov.uk

Universities
University of Brighton: http://www.brighton.ac.uk
University of Sussex: http://www.sussex.ac.uk

Language schools
http://tourism.brighton.co.uk/language

Careers services
University of Brighton Careers Centre: http://student.bton.ac.uk/studserv/Careers

Newspaper
Evening Argus: http://www.thisisbrightonandhove.co.uk

Town guides
"The Cheeky Guide to Brighton" by David Bramwell, Cheeky Guides Ltd; see http://www.cheeky-chops.freeserve.co.uk/cheeky/brighton/thebook.html
City guide: http://www.brighton.world-guides.com

Bookshops
Bookshops with large English as a Foreign Language (EFL) sections include:
The English Language Bookshop: http://www.elb-brighton.com

Local services
Local Life: http://www.locallife.co.uk/brightonhove/index.asp

Back to top


---

LINKS

Tourist guide to Brighton: Travel/Tours/England/Brighton
Language school towns: Britain/Towns

Home page: Home

Back to top

© UK Student Life 2002-2009


---

* Search this website (www.ukstudentlife.com) or the web: