Study, work or travel in the UK. British culture and life.

A guide to London
---

SUMMARY

London is expensive, but it may be easier for students to find part-time jobs here than in smaller towns. There are many language schools, of varying quality, charging a wide range of prices. The city centre is full of shops and places of entertainment. There are many interesting buildings and some attractive parks. People from many cultures live here. Transport links are convenient (but not very clean or efficient).


| | |
| --- | --- |
| Tower Bridge | London Eye |
"Time Out" Student Guide 2003/2004
(guide book for students in London)
Author: Will Fulford-Jones
Publisher: Time Out Magazine
Date: September 2003

The London Bible
(guide to living and working in London)
Authors: Katherine Harlow, Katya Holloway
Publisher: Summersdale Publishers
Date: October 2002

London
(guide book for tourists)
Author: Peter Matthews
Publisher: Pitkin Guides
Date: June 2000

A-Z London Street Atlas (Spiral)
(street map)
Publisher: Geographers' A-Z Map Company
Date: November 2002

"Time Out" London Visitor's Guide: 2003/2004
(guide book for visitors to London)
Editor: Ruth Jarvis
Publisher: Time Out Magazine
Date: March 2003

Living & Working in London
(book for people working in London)
Author: Orin Hargraves
Publisher: Kuperard
Date: June 1997
Back to top
---
FACTS & FIGURES


Subject
Name
Population:
7,187,400 (over 60 years old: 16.8%)
Region:
Greater London (in south England)
Location:
See: map
Visiting from abroad:
There are 5 international airports around London: Heathrow, Gatwick, City, Luton, Stansted (see: Travel/Transport/Air)
Eurostar trains run from Brussels and Paris to London Waterloo station
Tourism:
The most popular town in the UK for overseas visitors in 2000
Language schools:
80 schools which are recognised by the British Council (2002)
---

FEATURES

- London is the capital city of England - a centre of trade, business and government.
- The River Thames runs through the city, crossed by some attractive bridges such as Tower Bridge and the Millennium Bridge.
- Many nationalities live and work in the city, so people do not assume foreigners are tourists. Many religions have places of worship in London.
- There are many different communities and activities in which you can get involved.
- There is an interesting mixture of historical and modern architecture in the city. Among the many places worth seeing are Trafalgar Square, the London Eye (Millennium Wheel), the Albert Memorial, the Tower of London, Buckingham Palace and the Houses of Parliament (including Big Ben).
- Parks are found in most parts of London. These include St James's Park, Green Park, Hyde Park, Regent's Park, Hampstead Heath and Holland Park


Back to top


---
ENVIRONMENT
London is a large, busy city and therefore has some problems such as noise, air pollution and traffic congestion. However, there are more green spaces than in most capital cities. It is generally safe to walk alone at night in busy areas with good lighting, but it is a good idea to carry a personal alarm, especially for women walking alone at night. Crime rates are quite high in central London. Foreigners are often targeted by thieves: look after your money, mobile phone or other belongings carefully, especially in busy stations or shopping areas. Most people feel safe enough walking around the city by themselves, but women walking alone at night might choose to carry a personal alarm and avoid dark streets. There is some homelessness and begging. As with many other capital cities, there is a small risk of terrorist action (in the past there have been some attacks within London by Irish groups, but these are not common).
Accommodation and other living costs in London are high. Many host families in London may not be native English speakers. If you are studying at a language school, meeting up with the other students in the evenings may be more difficult than in smaller towns, because the students may live far apart from each other.

Back to top

---
ENTERTAINMENT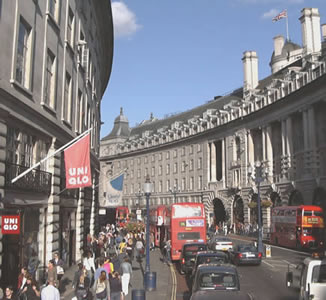 Regent Street


There are many famous British and international shops in London, especially in the West End (for example, around Oxford Street, Bond Street, Regent Street, Covent Garden and Knightsbridge). There are also small specialist shops, including shops providing food and books for many different nationalities. Many people come to London for Christmas shopping in November/December, or for sales in January or July.


There are many cinemas, theatres, pubs and other places for entertainment in the city centre, although they can be expensive. Restaurants offer food from many parts of the world. Some nightclubs open all night (in other parts of the UK, clubs often close before 2am). Pop, jazz and classical music is played in many venues; sometimes there are free concerts in churches, parks or on the South Bank, and buskers often play music in the streets around Leicester Square and Covent Garden. London has 300 different museums (for example: the British Museum, the Natural History Museum, the Science Museum, the Imperial War Museum) and art galleries (including the National Gallery, the National Portrait Gallery, the Tate Gallery / Tate Gallery of Modern Art, the Victoria and Albert (V&A) Museum). Entry to many museums and art galleries is free.

Local events in London include:

Ceremony: Trooping the Colour (June); Remembrance Day parade (November)
Carnival: Notting Hill carnival (August); Mardi Gras (Europe's biggest gay and lesbian event) (July); Lord Mayor's Show (November)
Film: London Film Festival (November)
Fashion: London Fashion Week (February and September)
Flowers: RHS London Flower Show (April); Chelsea Flower Show (May); Hampton Court Flower Show (July)
Music: The Proms (July - September): a series of classical concerts in the Royal Albert Hall
Sport: The Oxford/Cambridge boat race (March), the London marathon (April), Wimbledon tennis tournament (June / July), international rugby games at Twickenham (spring), cricket at the Oval or Lords (summer), show jumping (December)

Back to top

---
TRANSPORT
Public transportation within London is convenient (there are many rail, underground, bus and night bus services).
The Tube (the underground train system) is convenient, but it is expensive and not very clean or efficient. Underground trains may be unpleasantly warm on hot days in summer, because modern air conditioning is not possible in the old tunnels. You will not find litter (rubbish) bins in train stations or on the underground for safety reasons, so carry any litter with you until you find a bin outside.
Buses in London are convenient and cheaper than the Tube, but can be slow on the busy roads in central London and do not run according to a reliable timetable. The names of bus stops are not announced, so it can be confusing to know where to get off unless you carry a bus map or you know the area (ask someone to help you). If you are out after midnight, there are night buses to many destinations.
Cycling is not recommended in central London, because of busy traffic and air pollution.
For detailed information about travelling within London, see: Travel/Transport/London

London is the centre of the UK transport network.
Trains can be used to travel quickly to most parts of the UK; the main railway stations are at Euston, King's Cross, Liverpool Street, London Bridge, Waterloo, Charing Cross, Victoria, Paddington and Marylebone. Cheap daytrips are possible to many places in the south of England, including Oxford, Cambridge, Windsor, Stratford, Brighton and Bath. "Eurostar" trains only take about 3 hours to go from Waterloo station to Paris (France) or Brussels (Belgium).
Coaches travel from Victoria Coach Station to many locations, including European destinations. Coach journeys often take up to twice as long as rail journeys, but are usually cheaper.
Aeroplanes: The largest international airports are at Heathrow and Gatwick, from which there are direct flights to most parts of the world. Stansted, Luton and City airports are smaller airports around London from which you can fly mainly to destinations in the UK or Europe. For further information about air travel, see: Travel/Transport/Air.

Back to top
---

FURTHER INFORMATION

Tourism
London Tourist Board: http://www.londontown.com
You can send a free electronic postcard of London from the site: http://www.londontown.com/postcard

Universities
London University: http://www.lon.ac.uk
Imperial College: http://www.ad.ic.ac.uk
King's College: http://www.kcl.ac.uk
Goldsmith's College: http://www.gold.ac.uk
London School of Economics: http://www.lse.ac.uk
University of Westminster: http://www.wmin.ac.uk
University of North London: http://www.unl.ac.uk
South Bank University: http://www.sbu.ac.uk
Middlesex University: http://www.mdx.ac.uk

Careers services
London University Careers Service: http://www.careers.lon.ac.uk
City University Career Development Centre: http://www.city.ac.uk/careers

Newspaper
The Evening Standard: http://www.thisislondon.co.uk

Town guides
City guide: http://www.london.world-guides.com

Radio/TV
BBC London: http://www.bbc.co.uk/london
BBC London provide information about the student community in London at this site:
http://www.bbc.co.uk/london/yourlondon/unitedcolours/students/welcome_history.shtml

International students
A free booklet called "International Students A-Z Guide to London" is available from International Student House, who also organise the ISH Club and a Travel Club for international students: http://www.ish.org.uk

Bookshops
Bookshops with large English as a Foreign Language (EFL) sections include:
Foyle's, 113-119 Charing Cross Road, London WC2H 0EB (near Tottenham Court Road): http://foyles.co.uk
Keltic, 154 Southampton Row, Bloomsbury, London WC1B 5AX (near Russell Square): http://www.keltic.co.uk

Local services
Local Life: http://www.locallife.co.uk/london.asp

Back to top


---

LINKS

Travelling in London: Travel/Transport/London
Finding a room to rent in London: Life/Accommodation/London

Home page: Home

Back to top

© UK Student Life 2002-2009


---

* Search this website (www.ukstudentlife.com) or the web: