Russia and the UK fought together as allies during the Second World War. 60 years after the war ended in 1945, British and Russian veterans came together to watch the Russian Winter Festival.
The stage entertainment was hosted jointly by Russian and British radio presenters. The British presenter was Sadie Nine, from BBC London (94.9 FM), accompanied by her dog Madam.
There was a special programme of entertainment on stage during the afternoon and early evening, including both traditional and modern styles of Russian dancing, singing and music. Below is a selection of photos of some of the performers.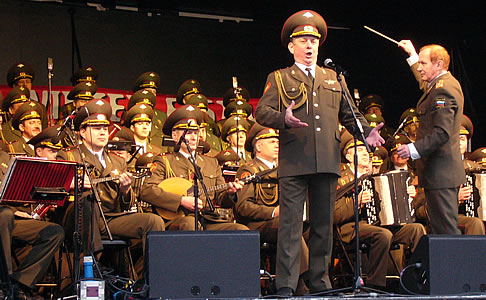 Alexandrov Red Army Choir
| | |
| --- | --- |
| Severnoye Siyanie (music and dance from the northern regions) | Krinitsa (Cossack) |

Russian Soul
| | |
| --- | --- |
| Karagod | Loiko (gypsy group) |
| | |
| --- | --- |
| | Natisk (Russian hard rock) |
The Russian Winter Festival took place soon after the date of the traditional Russian New Year. To celebrate this, at 6pm an acrobatic dance was performed in the centre of Trafalgar Square. A recording of the Kremlin bells was broadcast, artificial snow filled the square and dry ice emerged from the fountains, creating a winter wonderland in the heart of London ...
After the main event finished in Trafalgar Square, a second event took place nearby at Somerset House. Russian ice skaters Ilia Averbukh and Irina Lobacheva demonstrated their ice dancing skills on the rink. After this, ticketholders could enjoy skating to the sound of traditional Russian music (played from the balcony).
Back to top