Study, work or travel in the UK. British culture and life.

Simcha on the Square: Jewish music and culture festival in Trafalgar Square

Simcha on the Square is a free annual event in London's Trafalgar Square which celebrates Jewish music and culture. Simcha is a Hebrew word meaning "joy", and also refers to the celebration of a happy occasion.

In 2009 there will not be a Simcha on the Square event, but there will be Klezmer in the Park on Sunday 6th September 2009 in Regent's Park (around the bandstand), from 1-6pm.

The pictures below were taken at the 2007 event.



Acts at Simcha on the Square were introduced by Laoise Davidson (the Head of Communications at the Jewish Music Institute).


Laoise Davidson from the

Jewish Music Institute (JMI) was the presenter

Crowds filled

Trafalgar Square to watch

Neshama performs at many Jewish celebrations, including at weddings, Bar Mitzvahs (coming of age ceremonies for young men, aged 13) and Bat Mitzvahs (similar celebrations for teenage girls).


| | |
| --- | --- |
| Danny Shine | Dancing in Trafalgar Square |


Moishe's Bagel is an Edinburgh-based group who perform a variety of klezmer, folk dance and Eastern European jazzy music.
Klezmer is a popular style of Yiddish folk music (originating in central and eastern Europe). People usually hold hands when dancing to this type of music.


Scottish fiddler

Greg Lawson

Phil Alexander on keyboards,

and Mario Caribe on bass




OFFICIAL OPENING CEREMONY


The opening ceremony was led by Geraldine Auerbach, the founder of the Jewish Music Institute and one of the main organisers of this event. The Deputy Mayor of London Nicky Gavron (who is a Jew) gave a short speech.

A shofar is the horn of a ram or antelope, used as a musical instrument at Jewish religious ceremonies. A group went onto the stage and blew into their shofars to celebrate the Jewish New Year.


Nicky Gavron, Deputy Mayor of London, plus JMI

Chairman Walter Goldsmith and Geraldine Auerbach

A traditional welcome for the Jewish new year:

blowing the shofar


The Jewish Youth Choir is made up of Jewish children in London who are aged between 8 and 18. Their performances on the stage were conducted and arranged by their Musical Director Vivienne Bellos.



Cantor Stephen Robins sang with the Woodside Park Synagogue Choir. A cantor is a professional singer who leads prayer services in a synagogue (a Jewish place of worship).



Mor Karbasi writes and performs in the Ladino language. The last of the songs she performed on stage ("Judia") was written after she visited the site of the Nazi concentration camp at Auschwitz in Poland: it is dedicated to the memory of the many Jews who were murdered during the Holocaust.


| | |
| --- | --- |
| Mor Karbasi (vocals) | Joe Taylor (guitar) |


Stewart Curtis' K-Groove won the Klezmer Idol competition which was organised by the Jewish Chronicle. The group have released two albums so far (Too Loud for Dinner and Smoked Salmon Salsa) and will soon release their third album: Brazilian Bop Bagel.



Smoked Salmon Salsa (CD album)
Artist: Stewart Curtis' K-Groove
Label: 33 Jazz
Date: November 2000



ORANIM, ALONIM & NITZANIM


The Oranim, Alonim and Nitzanim dance troupes performed on stage in a range of traditional costumes representing the various Jewish traditions. These groups belong to the Israel Dance Institute (IDI).





Henry Grunwald, who represents Jewish interests to Parliament, gave a short speech about issues facing the Jewish community. He stressed the importance of continuing to take action to combat racism.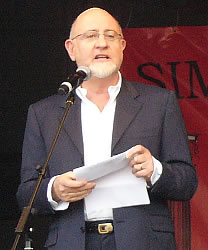 Henry Grunwald, President of the

Board of Deputies of British Jews



Troia Nova (meaning "New Troy") performed Greek and Turkish Jewish music.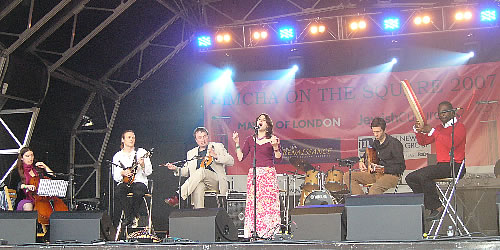 Troia Nova



Martyn Dias (also known as Shmelvis) came on stage to perform hits of Elvis Presley, looking and sounding just like the "King of rock 'n; roll". So was Elvis Jewish?




ESTELLE GOLDFARB & DJ CLICK


Estelle Goldfarb is a violinist from Paris, performing in a highly energetic style. She was joined by DJ Click, a French disc jockey with his own record label.



Flavour (CD album)
Artist: DJ Click
Label: No Fridge
Date: October 2007


Members of the cast of the current stage production of the musical Fiddler on the Roof performed the Bottle Dance, balancing wine bottles on their heads.




Zohar ended the event with modern Jewish music. The band is led by Erran Baron Cohen, the brother of the comedian Sacha Baron Cohen (best-known for his character Ali-G).




---

LINKS

Photos from Simcha on the Square 2006: Ideas/Album/Simcha-2006
Useful links for Jewish people in the UK: Links/Israel
Monthly guide to events: Ideas/Events
Photos from other annual events: Ideas/Album
Trafalgar Square: Travel/Tours/London/TrafalgarSquare

Home page: Home

Back to top

© UK Student Life 2002-2009


---

* Search this website (www.ukstudentlife.com) or the web: