After the Queen arrives at the
Sovereign's Entrance
at the
Palace of Westminster
(the Houses of Parliament), the
Union Flag
which flies on top of the Victoria Tower is replaced by the
Royal Standard
to show that the Queen is present. The Queen walks up the
Norman Staircase
and is taken to the
Robing Room
, where she puts on her official robes and the
Imperial State Crown
. She then walks through the
Royal Gallery
and into the
Prince's Chamber
at the
House of Lords
. She takes a copy of her speech from a purse which is presented to her.
A signal is given to an official known as
Black Rod
, who walks down through the Central Lobby to the
House of Commons
. According to tradition, the doors of the House of Commons are closed in Black Rod's face as he approaches. He must then use his
mace
to knock on the door three times, after which the doors are opened to him. This procedure is a symbol of the power and independence of the House of Commons. Black Rod calls on the MPs to go to the
House of Lords
to listen to the
Queen's Speech
.
Starting at about 11:40am the Queen gives a short speech (usually lasting about 10 minutes). This has been written by the government, not by the Queen. It outlines the main new laws which will be considered in the House of Commons during the following year (or until the next general election if that is earlier).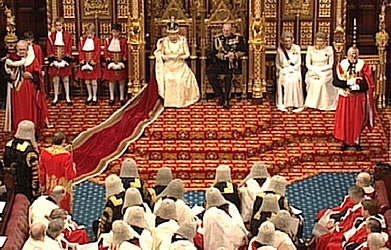 The Queen's Speech in the House of Lords
Back to top