Study, work or travel in the UK. British culture and life.

Photos from the Thames Festival

The Thames Festival is an annual free event which takes place in September along the banks of the River Thames in London. It celebrates the importance of the river to the life of the capital, and reflects the multicultural nature of the city.

In 2012 the Thames Festival is on Sat 8 Sep and Sun 9 Sep (from 12 noon until 10pm each day)

For further information about this year's programme, see: http://www.thamesfestival.org


---

A wide range of bands take part in the festival. Some perform on the pavements, while others play on stages.


| | |
| --- | --- |
| Hot Club of Belleville | On stage in Potter's Fields Park |
Orkestra del Sol

(in Hay's Galleria)

Alex Wilson

(on stage in Bernie Spain Gardens)

Street performers entertain the crowds.


Mime artist outside the Tate Modern

(in front of the Millennium Bridge and St Paul's Cathedral)

The Birdie Man

(on Southwark Bridge)
St George and the Dragon

(in Hay's Galleria)

Transe Express play drums and bells

(in the air, next to the London Eye)

Stalls line the riverfront, selling many types of food and crafts or providing information.


Stalls near City Hall

(opposite the Tower of London)

Seafood

(on Southwark Bridge)

The Thames Festival has plenty to entertain children as well as adults, with everything from bubbles to beach balls ...


| | |
| --- | --- |
| Can you catch the bubble? | Traditional seaside entertainment |
| | |
| --- | --- |
| Visit the inside of this giant beached whale | Help decorate the fairy's gingerbread house |

Dancers are often invited to perform at the festival.


Japanese dancers Sonda Eisa:

(outside the Royal Festival Hall)

Samba dancers

(outside City Hall)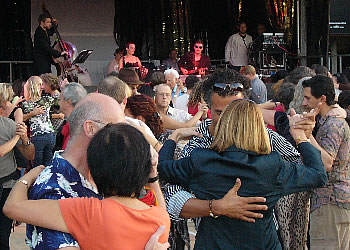 Tango lessons

(near the Tate Modern)


On the Sunday evening there is a night procession. The usual path is along Victoria Embankment (starting near Embankment Tube station), across Blackfriars Bridge, and then along Upper Ground. The procession is lit up by lanterns and electric lights. Those taking part are dressed in colourful costumes.





The event usually ends with a free 10-minute firework display. The fireworks are set off from a barge placed on the river Thames, between Waterloo Bridge and Blackfriars Bridge. People watch from these bridges, from along Victoria Embankment, and from along the South Bank (in front of the National Theatre or Gabriel's Wharf).


Back to top


---

LINKS

Photos of other annual events: Ideas/Album
Events in the UK in September: Ideas/Events/September
Greenwich: Travel/Tours/London/Greenwich
A cruise on the River Thames: Travel/Tours/London/Cruise

Home page: Home

Back to top

© UK Student Life 2002-2012


---

* Search this website (www.ukstudentlife.com) or the web: