Study, work or travel in the UK. British culture and life.

The cost of studying abroad in the UK

It is important to plan your finances carefully when you study abroad. Mark Chandler from ukstudentlife.com gives a guide to the costs for students coming to the UK.

One of the most important things you need to do if you are thinking about coming to study in the UK is to consider carefully how much it will cost. There are many things you need to consider as well as your course. To get a good understanding of the cost of living I interviewed Michiyo, a Japanese student who has spent 9 months at a language school and another 9 months at a university, both in London. As well as asking her how much she has spent, I asked her to give some tips to help other students.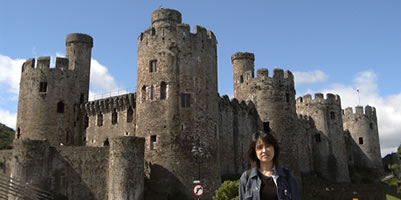 Michiyo on holiday in Wales
(in front of Conwy Castle)
---

Travel and insurance

It is important to buy adequate insurance in case you have some difficulty while you are abroad - for example in case you are ill, have your things stolen or are involved in an accident. Michiyo paid £400 for a Japanese insurance policy. This included some private health insurance, although she didn't realise that she would be able to use the British public health system free because she was studying for more than 6 months. A British insurance policy designed for the main needs of international students in Britain is available for about £120.

A significant cost for students coming from Asia to the UK is the price of the air ticket. Michiyo paid £900 for a 1-year open ticket from Tokyo to London.

Michiyo's tip:
"Look around for student discounts on flight tickets - compare the different operators. Also, try to travel outside the peak months"

More information: http://www.ukstudentlife.com/Shop/Insurance.htm


---

Course

University courses are expensive. People who do not live in the European Union have to pay the "overseas" fees. As an approximate guide, expect to pay about £7,000 for a 1-year arts course, £9,000 for a science course, and £17,000 for a course in medicine. An MBA course may cost about £25,000. Michiyo's university course cost her about £7,000.

English language school courses are usually much cheaper than university courses. You need to have at least 15 hours of classes per week to study "full time" - one of the requirements for obtaining a student visa rather than a tourist visa. Michiyo paid about £1,000 for a 9-month course in General English in London, studying 3 hours per day (9-12), 5 days per week. This fee did not include accommodation. She didn't choose the cheapest available courses in London - less than £500 for a 9-month course - because she was concerned about the quality of the teaching and facilities at these schools. She also took an intensive 3-week course (5 hours of classes per day) at a school in Cambridge - this cost £700 including accommodation. Michiyo told me, "It was expensive, but I don't regret paying - it was a really good school".

Michiyo's tip:
"Language schools are cheaper in London, but the quality of teaching is variable there. Accommodation costs are higher, but there are more opportunities for part-time jobs. You may want to study outside London if you want a quieter, more friendly atmosphere".

More information: http://www.ukstudentlife.com/Course.htm

---

Work

If you have a student visa, you can work for up to 20 hours per week (or longer during school or university holidays). The minimum wage for adults over 22 is £4.50 per hour - you can expect to earn about this amount of money for a typical part-time job in a pub, café or restaurant.

Michiyo's tip:
"Don't rely on UK income when you plan your finances. I injured my leg, so I wasn't able to work for a while. When I was doing my university course I did a part-time job at first, but towards the end of the course I gave up working because I needed to study very hard".

More information: http://www.ukstudentlife.com/Work.htm


---

Accommodation

Accommodation costs are higher in London than in other parts of the UK. The cheapest available rents are about £50 per week, and the average figure paid by students in London is about £80 per week. It is cheaper if you share a double or twin room (the average cost is about £65 each per week). These prices include utility bills, but do not include meals or telephone costs. You may need to pay a lot more if you want to live in the centre of London. Remember to consider your travel costs as well as the rent (for students a bus pass costs about £5 per week, and a typical travel pass for the bus or underground costs about £15 per week - more if you live far from the centre).

Language schools often offer homestay accommodation (you have a room in a family's house). The average weekly cost (including breakfast) is about £90 - or £110 if you also want supper.

A single room in accommodation provided by a school or university might cost about £100 per week. This does not include food, but there may be a canteen where you can eat cheap meals. Other benefits may include free internet access in every room, and you will not have to pay the local tax which is called "council tax".

If you want to share a small flat (apartment), expect to pay £120 or more in most parts of London.

All types of accommodation are usually cheaper outside London. You can usually get a good idea about local costs for students by checking the website of the nearest university.

Michiyo's tip:
"Don't pay in advance for a whole year's accommodation. Stay with a host family or in a hostel for the first few weeks, and then look for somewhere. If possible, try to find a room which is recommended by another student".

More information: http://www.ukstudentlife.com/Life/Accommodation.htm


---
Food
If you make your own lunch and supper, expect to pay at least £20 per week. You can pay a lot more if you eat out often - a simple lunch might cost £3, and a takeaway supper is often £4 or more. Michiyo cooked for herself each evening while she was at the language school, and made her own sandwiches each day for lunch. By eating cheaper foods such as pasta, potatoes, chicken, eggs and vegetables, she kept her costs down to about £20 per week. However, while she was at university she was busy and ate out frequently, spending over £60 per week on food.
Michiyo's tip:
"You can get food cheaper from a supermarket or market. If you go at around closing time, you may be able to get some bargains"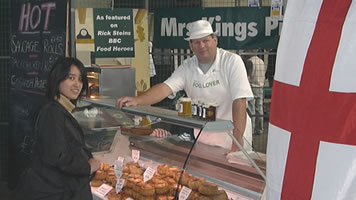 Michiyo goes shopping at Borough Market
---

Entertainment / holidays

Don't forget to allow money for entertainment and travel. It can be expensive if you like going to pubs and clubs - university bars can be much cheaper.

For a holiday, staying in the UK is normally the cheapest option. A coach tour for students and backpackers usually costs about £50 per day in total (£20 for the tour, £15 for accommodation costs, and £15 for food / souvenirs / entrance fees). Michiyo went on a 3-day tours in Wales and Scotland: each cost about £150 in total.

Trips to Europe are more expensive. If you want to tour several countries in Europe, there are special train tickets which can be bought in advance. Cheap flights may be available from discount airlines. Michiyo went on holiday to Germany, paying £130 return for her air fare. Her stay was much cheaper than normal because she stayed with a friend.

Michiyo's tip:
"Bus tours are be a good way to see the UK. If you travel independently, book your tickets and reserve your accommodation early: this can be much cheaper."

More information: http://www.ukstudentlife.com/Travel.htm


---

Conclusion

Michiyo's one-off costs for each of her 9-month trips to the UK were approximately £9,000 when she took the university course and £3,000 when she took the language school course:
- Course: £7,000 for the university, or £1,000 for language school (this included a £100 exam fee)
- Flight to/from the UK: £900
- Insurance: £400
- Holidays: £300
- Books: £100
- Domestic goods (radio, kitchen equipment etc): £100
- TV licence: £100
- Mobile phone purchase (second-hand): £50
- Visa: £50 (note that visa extensions cost £150).


Michiyo's weekly living costs were on average a further £150 per week:
- Accommodation: £80
- Food/shopping: £30
- Daily transport: £15
- Entertainment: £10
- Telephone calls / text messages: £10
- Internet access: £5.
She earned about £80 per week (after tax) while she had a part-time job.

Note that costs vary depending on your spending habits, the course you take and your location. Hopefully this article will give you enough information to estimate your own costs. There is further information on the UK Student Life website: http://www.ukstudentlife.com. This is a free website containing practical information about studying, working, travelling and living in the UK, compiled with the help of interviews with international students such as Michiyo.


Mark Chandler
UK Student Life: http://www.ukstudentlife.com

Back to top


---

LINKS

Costs: Prepare/Cost
Articles about studying abroad in the UK: Ideas/Articles
Diaries written by people who have visited the UK: Ideas/Diary

Home page: Home

Back to top

© UK Student Life 2002-2009


---

* Search this website (www.ukstudentlife.com) or the web: