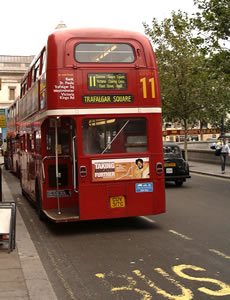 Taking a bus or coach is usually the
cheapest way to travel in Britain
It can be expensive to fly from Asia to the UK, so try to travel outside the busiest holiday months and compare prices from several airlines. There may be special prices available to students or young people - so check with agents who specialise in youth travel.
When you travel within the UK is often much cheaper if you book in advance. Take advantage of student railcards or coachcards. If you are studying in London, ask your school about how to apply for a Student Photocard as soon as you arrive. Travelling by bus or coach is cheaper than using the trains. Organised coach tours can be the cheapest way of visiting different parts of the UK. If you use a travel agency for a holiday, make sure that it is a member of ABTA (the Association of British Travel Agents) - if it is, you should be able to get your money back if the company goes bankrupt after you have paid.