Study, work or travel in the UK. British culture and life.

Using a computer in the UK
---

INTRODUCTION

Information to help you to use a computer in the UK.



Back to top


---

BRINGING YOUR COMPUTER
If you bring a laptop computer with you from abroad, carry it in your hand luggage. If you still have the receipt, bring this with you so you can prove where and when you bought it and for what price. Customs officers need to believe that the computer is for your own personal use and that it will only be in the UK temporarily, or they may charge import taxes (duty).

UK electricity has a voltage of 240V and a frequency of 50Hz (50 cycles per second). You may need a transformer to convert the voltage if your country's supply is different.

You will probably need an adapter so that you can connect to the electricity supply. Plugs in the UK have three square pins, as follows: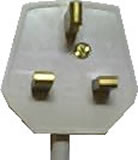 Check your insurance to see if it covers loss, theft or accidental damage to your computer when you are travelling, while it is in your room, or while you are using it outside your room.

If you wish to connect your computer to the internet, you should check that your accommodation has a phone line (or a cable connection) which you can use. Using a mobile phone connection to connect to the internet can be difficult and expensive. You will need a contract with an ISP (internet service provider).

A printer is probably too large to bring from abroad. If you do not have access to a printer at your school or university, you may want to use one of the public services (in an internet cafe, library or shop) or you may wish to buy a cheap or second-hand printer in the UK.

You may wish to make sure that the settings on your computer use the British keyboard and time. Note that these are different from American settings.
Many of these are options in the Control Panel on your computer, but some may need to be set within individual software programs.

Keyboard
Choose English (British) as the language on the keyboard.
There are a number of differences between the British and American keyboard layouts (for example, Shift + 3 is £ on a British keyboard)

Time
The Time zone should be GMT (Greenwich Mean Time), and you should make sure that you choose to automatically adjust for daylight savings changes

Dates
Set your region as United Kingdom to ensure that dates are formatted in the British way (eg 01/02/2003 or 1 Feb 2003)

Printing
When printing in the UK, you should normally make sure that the page format is set to A4 (210 x 297 mm)

Back to top

---

BUYING A COMPUTER IN THE UK
Students at a university or college in the UK may want to buy a personal computer (PC) and a printer. Having your own computer is also convenient for accessing the internet.

A desktop computer is cheaper than a notebook (also called a laptop). A notebook is much smaller and can be carried around - it may be more convenient if you need to take your computer to classes or if you intend to carry it with you when you leave the UK.

The speed of the processor is usually measured in GHz (gigahertz, often referred to in speech as "gigs"), but sometimes in MHz (megahertz; 1000 MHz is the same as 1 GHz). A larger number is better. Many modern computers are 1.5 GHz or higher.

Data storage is on the computer's hard drive (sometimes shortened to HD). The amount of data you can store is measured in GB (gigabytes). Normally 20 GB is more than enough space for students, but you may need more if you want to store a lot of large files on the machine (for example: music or films).

Screen sizes are measured diagonally (from the top left to the bottom right) and are in inches. 15" (15 inches, or 38 centimetres) is a popular size for notebooks, but you may prefer a bigger screen for a desktop (for example, 17").

Weight is an important factor for a notebook - many modern notebooks weigh about 3.5kg.

A CD drive can just play CDs (compact disks). To save files, data or music you may want a CD-RW drive (a compact disk player which can read and write data). Computers usually have a If you want to be able to watch films on your computer, you will want a DVD drive. You can also buy drives which combine the features of a CD-RW and a DVD drive: this is called a DVD/CD-RW combo drive and is particularly useful for a notebook computer, which may not have space for two separate drives.

If you often need to print out essays or need to write a lot of formal letters, you may want to buy your own printer. For personal use most people buy an inkjet printer, which is cheaper than a laser printer.

(1) Desktop


(2) Notebook

Dell
Desktops, notebooks etc.
Choose a basic model, and then select the features you want.

Some cheaper computers are available through the Dell Outlet
(see Shopping Alternatives > Dell Outlet)

PC World
Computers, printers, cameras, gaming, cameras, scanners, MP3 players and accessories

Apple Store
Computers, iPods (portable music players)

(3) PDA

(4) Inkjet printer

Computers are also available from http://www.studentcomputers.co.uk

Back to top


---

INTERNET
If you want to connect your own computer to the internet, first of all you will need a phoneline you can use. If you do not have one, you can ask your landlord if you can install one: you may be able to agree to share the installation cost with the landlord, because future tenants will also be able to use the line (of course you would have to pay the full line rental charges while you are using it). After you have a phoneline, you need a contract with an ISP (Internet Service Provider). You can choose either a narrowband connection or a faster broadband connection.

If you want to use the internet but do not have your own computer in the UK, you can use an internet café. You can find these using Yellow Pages: http://www.yell.com (select the options: What? Internet bars & cafés ; Where? The name of your town or the first half of your postcode). Further details about some of these are listed at the site: http://www.cybercafe.com (this site also gives details of internet cafes in other countries, which may be useful when travelling outside the UK). The cost of internet access from internet cafés ranges from about £1 to £5 per hour, although if you are a regular user it is cheaper to buy a weekly or monthly pass. Some cafés offer additional computer services, allowing you to print documents, to use a scanner, or to save files onto a disk or CD.

Your school or local library may also have computers with internet access. Sometimes there is no charge to use these. However, often these computers are busy, so you will may have to book them in advance and you may only be allowed to use them for a short time (often for half an hour).

Public telephones in train stations, bus/coach stations and airports sometimes have internet access. These can be useful for accessing information (for example, the Travel/UK section of this website) while you are travelling.

Back to top


---

SEARCH ENGINES
If you wish to look for information about the UK, it may be most efficient to use a UK-based search engine or web directory such as:
Google: http://www.google.co.uk
Yahoo: http://www.yahoo.co.uk
Ask Jeeves: http://www.ask.co.uk

Back to top
---

E-MAIL / MESSENGER
E-mail can be cheaper than sending letters or using the telephone. If you pay for each minute you are connected to the internet, you can save money by disconnecting while you are preparing the message.

To set up your own e-mail account, the most popular service is from Hotmail: http://www.hotmail.com
If you are using an English computer and you receive a message written in another language, you may need to change the language setting temporarily to be able to read the message properly. Select Options then Language, choose the language of the message, return to the Inbox and open the message again. You can change it back to English after you have finished.

The MSN Messenger service allows you to see when friends with Hotmail accounts are online, and allows you to exchange instant messages or to have a voice conversation at no extra cost. This can be a useful way of keeping in touch with friends and family abroad.
Some pictures can be used whilst chatting in Messenger. Some of these can be entered by typing a colon : followed by a character, for example :) for a smiling face. The character to use can easily be remembered because the shape makes it look like a picture. Most of the others are a single character in brackets, for example (a) for an angel. The letter used is usually the first letter of the name of the picture. Below is a full list. To open this table in a new window (so that you can see it when typing a message), click here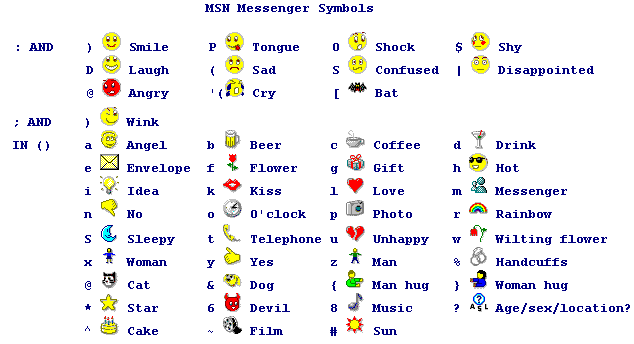 Yahoo also has a service which is similar to MSN Messenger.

You can use the MSN Photo service to show your photographs to your family or friends: http://www.photos.msn.co.uk.Free British electronic postcards (also called e-cards) can be sent from websites such as these:
- London Tourist Board: http://londontown.com/postcard
- BBC: http://www.bbc.co.uk/e-cards
- BBC World Service: http://www.bbc.co.uk/worldservice/learningenglish/youmeus/sendpostcard/postcard.shtml

A wide range of e-cards can also be sent from general sites such as:
- http://www.cardcentral.net
- http://www.bluemountain.com
- http://www.123greetings.com
- http://www.hallmark.com

---

VIRUS / WORM

Be careful to avoid computer viruses. A virus (or worm) often spreads via e-mail (it can also spread through files sent using instant-message products such as MSN Messenger, or through file-sharing programs such as Kazaa). It may spread itself by sending copies to everyone in your e-mail address list.

Make sure that your computer has anti-virus protection and that this is up-to-date. If you have a problem, update your anti-virus definition files and run the anti-virus check on your computer. Check the websites of the main anti-virus companies for details of recent viruses or worms (free tools to remove them are often available):
Norton Anti-virus (Symantec): http://www.symantec.com/region/reg_eu
McAfee (Network Associates): http://uk.mcafee.com



Buy up-to-date anti-virus or firewall software:


Never open e-mail attachments which you are not expecting (especially those which end with letters such as exe, com, pif or scr). Check with the sender first to make sure that the attachment is genuine.

Viruses try to deceive you, for example:
- The e-mail may appear to be from a friend
- The e-mail may appear to be from a reliable source: for example from Microsoft, your Mail Delivery System, or your bank. Remember that reliable companies would never send updates as general e-mail attachments - they would ask you to download the files from their official website.
- The title of the e-mail may be a general one, to encourage you to open it. Message titles which are commonly used by viruses are "Hi", "Hello", "I love you", "Test", "Error" and so on. When you send messages to friends, try to use descriptive titles because otherwise your friends may delete them without reading them.
- The e-mail will usually encourage you to open the attachment. Do not do this. Instead, return to your mail management system and delete the message.
- The e-mail may encourage you to send a copy to all of your friends (it may even pretend to be a virus warning)
- The e-mail might encourage you to give out personal details such as passwords or your credit card number. Never enter such details in an e-mail - only enter them on secure websites

Back to top


---

FOREIGN CHARACTERS
To view internet pages containing characters from a language other than English, open your local version of the MSN website (eg http://www.msn.co.uk). Messages such as the following should appear: "Install on Demand (Internet Explorer): To display language characters correctly you need to download and install the following components: Korean Text Display Support".

You may want to write something in your own language using a computer in the UK (for example: to send an e-mail to a friend in your home country).
The pages linked to below describe methods of inputting characters which do not appear on a British keyboard.

(1) Western European languages (French/German/Spanish/Portuguese/Italian/Scandinavian languages)

You can change the letters on your keyboard so that they are the same as those used in your home country.
Alternatively, you can enter the characters which are not used in English by using a combination of several keys.
For details, see: Life/Computer/European

(2) East Asian languages (Japanese/Korean/Chinese)

You can use an IME (Input Method Editor) to enter Japanese, Korean or Chinese text using a British keyboard.
For details, see: Life/Computer/Oriental

Back to top
---

SOFTWARE
Machine translation programs are available which will attempt to translate words, short paragraphs or web pages from English to other languages. To find links to these, click on the Translate key at the top of any screen.

PDF files (stored in Adobe's Portable Document Format) are text files which can only be read if you have a copy of Adobe's Acrobat Reader. This can be downloaded free from: http://www.adobe.com/products/acrobat/alternate.html

To listen to audio (sound) files (for example, to listen to British radio stations on the internet) you may want to download a basic version of the RealPlayer from: http://www.realaudio.com.

Note that student licences can be bought for some software products at much reduced prices (in some cases, some of the more advanced features of the main product are not included. To be able to buy these, you will need to prove that you are a student enrolled in an accredited school, college or university.

Back to top


---

LINKS

Home page: Home

Back to top

© UK Student Life 2002-2009


---

* Search this website (www.ukstudentlife.com) or the web: