Study, work or travel in the UK. British culture and life.

Manage your money in the UK
---

INTRODUCTION

This page gives you information about managing your money in the UK.

Back to top


---
VOCABULARY
A bank or building society or post office offer financial services to customers through their branches, and may also offer internet banking or telephone banking. A branch is identified by a 6-digit number called a sort code.
Ways of transferring money from abroad to a UK account include electronic transfer, a banker's draft and travellers' cheques. You can change foreign currency into UK currency (pounds Sterling) at a bureau de change or at a foreign exchange counter in a bank. The number of pounds you receive depends on the exchange rate which is offered, and you may also have to pay a charge known as commission.

The most common type of bank account used to manage your money in the UK is known as a current account (American English: checking account). The amount in your account is called the balance. If you have money in your account you are in credit; if you have withdrawn more money than you have, your account is overdrawn and you may agree to borrow money by arranging an overdraft from your bank manager.
When you put money into your account you make a deposit; you may need to complete a form known as a paying-in slip.
When you take money out of your account you make a withdrawal. You can withdraw bank notes at a cash machine (also called a cashpoint or an ATM) using a cashpoint card by entering your personal identification number (PIN). You can also take out cash by completing a form called a withdrawal slip and giving this to a cashier in a branch of your bank.
Regular bills can be paid directly from your current account by arranging direct debits or standing orders.
You can also pay for many things by writing a cheque (American english: check); you may be asked to show your cheque guarantee card. After a cheque has been given to a bank, it will take several days before it has cleared (in other words, before the money is put in your account); if the person who wrote the cheque does not have enough money to pay, the cheque bounces. You can also use a debit card, which pays money directly from your account and is accepted by most shops.
Another method of paying is by using a credit card (such as Visa or Mastercard); in this case, the money is not paid immediately; you can borrow money up to your credit limit, but you will have to pay interest. You can see details about transactions in your account in a monthly statement sent by post from your bank or in a simpler mini-statement obtained from a cash machine.
Money can also be invested in a deposit account (sometimes known as a savings account), which pays a higher interest rate but offers slower access to your money and does not provide other banking services.
---

SHOULD YOU OPEN A BANK ACCOUNT?
If you are only in the UK for less than 6 months, you may find it easier to keep your money in an account in your home country (using travellers' cheques, bank transfers, credit cards and cash machines to access your money). If you are staying in the UK for more than 6 months, it may be useful to open a UK bank account.

Advantages of having a UK current (checking) account:
Paying bills
Many landlords prefer to collect rent directly from a bank account (through a regular payment known as a "standing order")
You may be able to obtain cheaper services if you pay bills by direct debit from a bank account, eg telephone/gas/water/electricity
If you are given a chequebook, you can also write cheques as a safe way of paying for things


Cash
You can easily obtain money from cash machines or from a bank, or pay directly from your account using a debit card


Saves money
It is generally cheaper to use a UK account rather than paying by credit card or withdrawing cash from a foreign bank


Employment
If you work in the UK, some employers require you to have a bank account so that they can pay you.

Advantages of having a UK deposit (savings) account:

Earns Interest
You can receive a higher rate of interest on a deposit account. For example, if you have an average of £5,000 in your account for 1 year and you earn an extra 3% interest on this money for 1 year, you will receive extra interest of £150. If you have only a small amount of money, it may be simpler just to open a current account.
One idea is to transfer all the money you need for your stay when you open your account. It is cheaper to make one transfer instead of many smaller transfers. Another advantage is that you will not have to worry about the risk that during your stay there is a sharp fall in the value of your country's currency or a sharp rise in the value of the British pound. You will not benefit if your currency strengthens or the pound falls, but you can be confident that you will have enough money to be able to stay in the UK as long as you planned. Put most of the money in a deposit account, earning interest. Each month, transfer enough money from your deposit account to pay for all your living expenses, being careful not to keep enough money there to prevent your account's balance becoming negative (otherwise you will have to pay overdraft charges).

Back to top

---
CHOOSING A BANK
Who can you ask for advice?
Your school may have a welfare officer who can suggest which local banks are most helpful to international students, and what documents they require to open an account. You should ask your classmates or friends about their own experiences.
If you are studying at a university, there may be a financial adviser who could give you free advice about loans, bursaries, budgeting, benefits or taxes. This person may be a member of NASMA (the National Association of Student Money Advisers)

What are the names of the UK banks?
UK banks include the following:
NatWest - http://www.natwest.com
Royal Bank of Scotland – http://www.royalbankscot.co.uk
HSBC – http://www.hsbc.co.uk
Barclays – http://www.barclays.com
Lloyds TSB - http://www.lloydstsbgroup.co.uk
Halifax – http://www.halifax.co.uk
Bank of Scotland - http://www.bankofscotland.co.uk
Abbey National – http://www.abbey.com
Cooperative Bank - http://www.co-operativebank.co.uk

How quickly can I open an account?
For security reasons after the terrorist actions of September 11th 2001, it is unlikely that you will be allowed to open an account in the UK before you arrive. After you have arrived, it may take a short time before you have collected the necessary documents and visited the bank, and it might take a couple of weeks before the account is ready to be used and before any transfer of money from your country has been completed. In total, after arriving in the UK it might take a month before your account is ready (if you are allowed to open an account). If you need to pay for a course or accommodation soon after you have arrived in the UK, ask for advice about the different ways of paying.

Will the bank allow you to open an account?
If you are an international student you may find the process of opening a bank account more difficult than you expect. This is because there are strict laws in the UK which are designed to prevent money laundering (hiding money obtained from drugs or other illegal activities) or terrorist activity. In particular, you need to prove both who you are and where you are living. You should read the "opening an account" section below carefully.

What types of accounts should you consider?
(1) Current account
Bank staff will often encourage you to open a current accounts which charges a monthly fee and provides extra services. Only open such an account if you really need these services. There is usually a cheaper basic current account which is available as an alternative. Before opening a current account, check the fees which may affect you, for example if there are any charges for withdrawing money from a cash machine, or how much it will cost if the balance in your account becomes negative (overdraft charges).
(2) Branch-based deposit account
Branch-based deposit accounts offer higher interest rates than current accounts (because you have fewer services and less access to your money).
(3) Postal or telephone account
Postal or telephone accounts offer higher interest rates than branch-based deposit accounts (because you cannot use the services in the bank's branch). You will have to write or telephone to withdraw money from these accounts.
(4) Internet account
Internet accounts often offer the highest interest rates (because they are much cheaper for the bank to run). It may also be easier to keep track of this account when you are not in the UK. Some of these accounts allow you to withdraw money using a cash machine, while others will only allow money to be transferred to a bank's current account (this may take several days). Although they often have different names, the internet accounts are usually run by a major bank or insurance company (for example, Egg is run by Prudential Insurance, Cahoot by Abbey National, IF by Halifax).

How can you compare the interest rates?
You can compare the interest rates at different banks using the MoneyExtra website:
Current accounts: http://www.moneyextra.com/compare/current
Deposit accounts: http://www.moneyextra.com/compare/deposits
Make sure that you understand which services are offered for the accounts which are shown, so that you can compare them properly.
Remember that interest rates can change quickly, and check that the interest on your account remains competitive after you have opened it.

Other things to consider when choosing a bank branch for a current account
Does the bank have a branch close to your home and close to your school or workplace?
When is the bank open? Many branches are open from 9am to 4:30pm from Monday to Friday; some branches open on Saturday mornings
Can you use your local branch, or are you only allowed to deal with a particular branch, on the telephone or through the internet?
Can you use the cash machines of other banks?
Does the bank provide foreign exchange or international money transfer, and if so what are the charges?
Does the bank have a special student adviser (most common in branches near a university)?
Will you be able to obtain an overdraft if you need to borrow money for some reason; if so, what are the charges?
---

OPENING AN ACCOUNT
To open a bank account you will need first to collect some documents to prove who you are:
Identity
To prove who you are, you need an official document which includes a photograph. Your passport is probably the best example.

UK address
You need to prove where you live in the UK. There are strict laws which make it difficult to hide money which has been obtained from crime or terrorism, but which also make it harder for foreign students to open bank accounts in the UK. Check carefully with a bank exactly what it requires you to do to open an account - this will save you a lot of time. Many international students do not have any of the usual documents which are accepted - for example: a UK driving licence, or a utility bill (for gas, water, electricity or telephone) in your name.

The best way to overcome this problem is usually to ask your school if it has an arrangement with a local bank branch, and to apply to this branch. You will need to ask your school for a letter confirming that you are studying there and stating your address (this letter should be written on the school's official notepaper).

Most banks will accept some alternative proof of address, but the policy may vary from one branch to another. A survey of some bank branches in April 2004 revealed that each one had different requirements:
- one required a statement from your bank in your home country (written in English), showing your bank balance over a period of at least 3 months, and sent by the bank directly to your address in the UK
- one stated that an NHS medical card would be accepted (you can receive one of these after you have registered with a British doctor; see: Personal/Health)
- one said that a letter from your landlord would be accepted, provided that he/she has an account at the same bank (the letter needs to confirm the landlord's bank sort code and account number, and must state where you are living)
- one said that an offshore account could be opened, requiring proof of your foreign address and confirmation that you are not a UK resident

It may be helpful if you take with you some additional evidence of where you live. Your accommodation contract (assuming that it is a typed, official document) and your National Health Service medical card may be worth taking with you if you have them.

Home country address
To prove your address in your home country, take a document with your address. If possible, the address should be written using the Western alphabet so that an English person can read it. Examples of suitable documents are:
- A letter of acceptance from your school, if this was sent to your permanent address in your home country
- A statement from your bank in your home country
- Your passport (if your home address is shown)

Student status
If you are studying at a UK university for over a year, you may be offered a student account (these may be offered only between August and November, because the academic year starts in September in the UK). A student account may offer you lower charges and there may be some special offers. To prove you are a student, take a letter from your school which states the dates of your course.

Your credit record
If possible, ask your bank for a reference letter from your bank in your home country, written in English.

Sources of income
The bank may want to know how you are financing your stay in the UK (for example, from your own savings, from your family or from some other sponsor or scholarship).

The processes required to open a current account in a bank branch are as follows:

Go into the branch you have chosen and tell the information desk that you would like to open an account. You may want to ask a British person you know if he/she can go with you to help you (especially if your English ability is intermediate or below)

You may then be asked to complete a form before the interview: ask the information desk for help if you do not understand any part of the form

You will be interviewed by an account manager, who will decide if you can open an account

You will be asked for personal details such as your date of birth, your home address, your address in your home country, whether you are married or have children, when you came to the UK, when you expect to leave, your course or work, your income (or source of funds, eg parents) and your expenditure.

You will be asked to provide a sample signature; if you sometimes use an English and a non-English signature, you may be asked to provide a sample of each

You will be asked to sign a form so that the bank can check your credit history and keep your personal details on their computers. If you do not want to receive mail from the bank advertising their services, there should be a box that you can mark.

You may also be given a form to allow you to receive interest without tax being paid ('gross interest'). Someone who does not normally live in the UK (a person who is "not ordinarily resident" in the UK) can usually receive gross interest.

You should make sure that it is clear to which address your chequebook and cards will be sent, and how long this is expected to take. You may be asked to collect these from the bank branch.

Be careful to try to avoid some problems that sometimes occur when foreigners try to open an account, for example:

- First name and family name the wrong way round
- Cards and chequebook sent to the address abroad, instead of your UK address or the bank branch
- Note that it takes time (usually between 1 and 2 weeks) before the account becomes active
- The bank cannot open an account because you have no proof of your address


After you have opened your account, you will receive several different letters by post: confirmation of your account details, a chequebook, a paying-in book, your bank card, and the PIN (personal identification number) for your bank card.Do not write down the PIN or keep it together with your card.

It is common for a card to allow you to withdraw £250 per day.
If the card is stolen and used by the thief, you may have to pay the first £50 lost, or the full amount if you have lost the card and a note of your PIN at the same time
Statements will probably be sent to you monthly; you can also find your balance using a cashpoint machine.

UKCISA produce a guidance note for students on "Opening and running a bank account in the UK". You can access this from the page: http://www.ukcisa.org.uk/student/information_sheets.php.

Back to top

---
CARDS
A cheque guarantee card guarantees payment up to the limit shown on the card (eg £50)
Some people will not accept a cheque without seeing a cheque guarantee card at the same time
If the cheque is for more than the guaranteed amount, you may be asked to write several cheques for smaller amounts, or may be asked to provide proof of your identity and your home address
Even without a cheque guarantee card, cheques can be used for postal payments
A cashpoint card can be used in cash machines ("automatic telling machines", "ATMs")
Check if you can use another bank's machine to take out money, and if you will be charged for this
A debit card (eg Switch, Delta or Solo) pays directly from your account (by "electronic fund transfer") and is accepted by most shops.
A servicecard can be used as a cheque guarantee card, cashpoint card and debit card

| | |
| --- | --- |
| Front of debit card | Back of debit card |

A credit card (eg Visa or MasterCard) allows you to buy things without paying for them immediately, but interest is charged
Usually international students who open an account in the UK are issued with a servicecard. It is unusual to be issued with a credit card unless you have a regular income and have shown over a period of time (for example 6 months) that you are good at managing your money.


| | |
| --- | --- |
| Front of credit card | Back of credit card |

All UK and European debit/credit cards now include a microchip that stores data on the card. When you use the card in a shop you will be asked to enter your
four-digit Personal Identification Number (PIN) on a keypad. Make sure that nobody can see the number which you type and that nobody else knows your PIN. Signatures are not accepted for cards which contain a microchip (you may still be able to sign if you are using a card which has been issued outside Europe). The system is known as chip and PIN. If you enter an incorrect PIN three times in a row your card will be locked - you will need to contact your bank to unlock your card. For more details, see: http://www.chipandpin.co.uk

Make sure you sign the back of any new cards you are given as soon as you receive them. Write down the telephone number which you should call if your card is lost or stolen.

The last 3 digits printed on the signature strip on the back of a credit or debit card do not appear on the front of the card. They are a security number, which you may be asked to type when you order goods online using your card.

Back to top


---

TRANSFERRING MONEY FROM ABROAD

It is not safe to send/receive cash by post, because this could be easily stolen or lost.
These are some safer ways to transfer money from one country to another:

Electronic transfer of funds to your UK bank account ("sending money by wire")
Quick, but expensive
There are usually three types of transfer, depending on how quickly you need the money:
An urgent transfer (the most expensive)
A standard transfer
A relay transfer (the cheapest)

Banker's draft
A banker's draft is a document drawn up by the bank in your home country
You can carry this with you to the UK, or ask for them to send it to your UK address
You present the draft to your bank in the UK
If the draft is in Sterling, it will be credited to your account quickly and there will not be a handling charge

Cheques
A slow method; cheques may take several weeks to clear

Credit card
Withdrawing money from your credit card can be expensive because of high interest charges

Traveller's cheques
Keep a record of the numbers of traveller's cheques and credit cards in case of loss or theft

Other international money transfer services
International money transfer services are also offered by MoneyGram or Western Union.
Compared to a bank transfer this can be a more expensive and less secure way to move money, but it is useful if the sender or receiver doesn't have a local bank account.
To make a transfer, in one country the sender pays money to a local MoneyGram or Western Union agent, shows identification, and says who will receive the money and where it will be collected. The sender is given a reference number and must tell this to the person who will receive the money. The receiver goes to the agreed location, shows identification and quotes the reference number, and can then receive the money. There are limits on how much money can be transferred in this way. It is important to make sure that you know what identification is required and that you keep your reference number private.


Exchange rates
To find the current value of 1 pound in units of your currency, click on the following link:
[ in the three boxes, choose 1, "England (UK) Pounds" (or "UK Pounds"), and your currency; then click on the "Go!" button ]

XE.com Personal Currency Assistant

---
WRITING A CHEQUE
How do you write a cheque?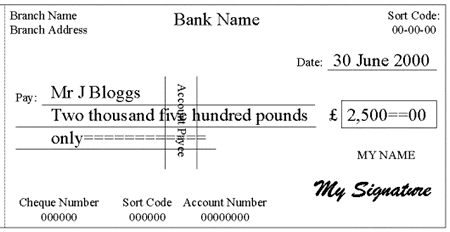 Make sure that payment by cheque is acceptable
Many shops will not accept cheques for small amounts (for example, under 10 pounds), because the shop has to pay a fixed charge to its bank for each cheque.
Many shops will not accept cheques unless you can show them a "cheque guarantee card" (you should not need this card if you are paying by post, or if the person you are paying knows you – sometimes banks do not issue cheque guarantee cards to international students)
Don't write a cheque unless you are sure you have enough money in your account (otherwise the cheque may be returned to you by your bank, and you may have to pay a charge – in this case, we say the cheque has "bounced")
Write the name of the person or company you are paying (the 'payee') on the first line (top left)
Make sure that the name is clear and cannot be changed easily
For example, for a telephone bill you might write "British Telecommunications plc" instead of "BT" (if the cheque is stolen, this could easily be changed to look like somebody's name)
If you are paying a bill, it usually tells you the full name to write (you may need to look on the back of the bill)
Write the amount being paid in words on the second line (continue on the third line, if necessary)
Write the number of pounds in words, followed by the number of pence using two numbers (eg 05 for 5 pence)
If the amount is an exact number of pounds write the word "only" instead of the number of pence
For example: £185.08 should be written "One hundred and eighty five pounds 08"
For example: £12.50 should be written "Twelve pounds 50"
For example: £2,500.00 should be written "Two thousand five hundred pounds only"
If sending the cheque by post, the words "account payee" should be be used
Normally you don't need to write these words, as they will be printed on the cheque already
These words (or "a/c payee") should be written between the two vertical lines in the middle of the cheque
Enter the date (top right)
In the UK the order is always day-month-year (in the US, for example, the order is month-day-year)
For example, you could write "1 February 2000" or "1/2/2000"
Today's date should normally be used, assuming you have enough money in your account
If you want to enter a future date (to "post date" the cheque), tell the person being paid
Write the amount being paid in numbers in the box (centre right)
The pound sign (£) is normally already written on the cheque
Use a comma to indicate thousands (not a dot, as used by some Europeans)
Use two parallel lines to fill the space between the number of pounds and the number of pence
(If you leave spaces, it may be possible for someone to change the words and numbers on the cheque)
Use two numbers for the pence, and 00 if it is an exact number of pounds
For example "185=08","12=50","2,500=00"
Sign the cheque  (bottom right)
Use the same signature as on your cheque guarantee card
If you are paying a regular bill, write your address or customer number on the back of the cheque
For your information, copy the details on the cheque 'stub' (left)
If you give a cheque to someone directly, he/she may want to see your "cheque guarantee card"
The person receiving the cheque may want to write down the card number, and check that the signature on the cheque is the same as the one on the card
The bank will pay up to the amount shown on the back (often £50), even if you don't have money in your account
If your bank has not issued you with this card, sometimes the person may not accept payment by cheque
---
USING A CASH MACHINE
Find a cash machine
A cash machine is sometimes also known as an ATM (automatic telling machine) or Link machine
If you just want to take out money or check how much money you have in your UK bank account, you don't have to find a machine belonging to your own bank. You can usually use the machines of other UK banks or building societies without having to pay any charges. Note however that cash machines inside newsagents and convenience stores usually charge a fee
If you want more complicated services, you may need to use a machine belonging to your own bank.


"Welcome. Please insert your card"
Insert your card, with the card numbers on the top left-hand side (the card will only be accepted if you enter it correctly)


"Please enter your personal number"
Your personal number may also be called a personal identification number or PIN
On some machines, you will need to press the ENTER key after you have typed the numbers (press the ERROR key if you make a mistake)
Your personal number has 4 digits (eg 9999), and is sent to you about a week after you have opened your bank account.
The first time you use your card, you will be asked if you want to change your number to one that you can remember more easily.
If you enter the wrong number three times, the machine will keep your card (it does this to protect you from losing money if your card is stolen). If you get the number wrong first time, it is better only to try one more time; if this doesn't work, select "Return card" or press the CANCEL key.
If your card is kept by the machine, report it to the nearest branch if it is open. Otherwise, go to your local branch the next day and ask for another card to be sent to you.


"Please select a service"
Options may be:

"Cash only" (or "withdraw cash" or "cash no receipt") or "Cash with receipt" (or "withdraw cash with receipt")
Select cash if you want money but you do not want to get a piece of paper confirming how much money you have taken out
You will be asked to "Select amount" (or "please key in the amount you require").
You can either choose from a list, or choose "Other amount" and type in how much money you require
The amount you take out of your account will normally have to be a multiple of 10 or 20 pounds, depending on which notes are available in the machine.
There is a daily withdrawal limit (in other words a maximum amount of money you can take out from cash machines on one day), often 250 pounds.

"Display balance" (or "on-screen balance" or "balance enquiry" or "check your balance") or "Print balance" (or "printed balance")
The "Account balance" is the amount of money in your account at the start of the day (it does not include money withdrawn during the day)
If the balance is positive, the letters "CR" (short for "in credit") may be written after the number
If the balance is negative, the letters "OD" (short for "overdrawn") may be written after the number. You may have to pay bank charges
The "Available balance" (or "available funds") shows how much more money you are allowed to withdraw on that day

"Mini statement"
A list of recent changes to the amount of money in your bank account (perhaps the last 6 transactions)
This service may only be available if you are using a cash machine of your UK bank

"Account services"
For example "Change your personal number" or "Request a chequebook" (a new book will be sent to you by post)
This service may only be available if you are using a cash machine of your UK bank


Taking money and receipts
Other messages that may appear while you are finishing using the machine:
"Please remove your card"
"Your cash is being counted"
"We are dealing with your request"
"Your receipt is being generated" (the receipt may also be called an "advice slip" or "acknowledgement slip")
"Please take your cash and wait for the receipt"
"Please take your receipt" (to be tidy, and for your own safety and privacy)
"You have not been charged for this withdrawal" (at the moment there are no charges to use a cash machine, but this may change)

Some machines have a deposit slot, allowing you to put money into your account even when the bank is closed.

Other ways of obtaining cash
Note that some supermarkets may offer you a "cashback" when you use your card to pay for your shopping. This means that the cashier gives you the amount of money you request, and this amount is taken from your account in addition to the cost of your shopping.

You can write a cheque as normal but put "Cash" on the top line instead of a person or a company's name, and take this to a branch of your bank.

---
MANAGING YOUR MONEY
Travellers' cheques
Keep a record of the numbers of travellers' cheques and credit cards in case of loss or theft.

Documents
Keep your bank statements, water/gas/electricity/telephone bills, rental agreements, as well as any correspondence with your school, bank or immigration authorities (keep a copy of any application forms you send). For example, these documents may help you to open a bank account or to apply for an extension to stay as a student in the UK.

Budget
Budget carefully; keep a detailed record of your expenditure and income.

Financial difficulty
- UKCISA also produce a range of helpful guidance notes which you can access from the page: http://www.ukcisa.org.uk/student/information_sheets.php.
There is a guidance note on "Financial hardship". Some people may be allowed to claim money from the government (welfare benefits). See the guidance note on "Welfare benefits and international students".
- If you think you may need to borrow money from the bank, talk to your bank manager and school as soon as possible.
- If you are allowed to work in the UK, you may consider looking for a job (see: Work/Search).
- You may need to move to cheaper accommodation or to a cheaper part of the UK (for information about looking for a room, see: Life/Accommodation/Guide).
- If your school fees are too high for you, you may also need to consider moving to a cheaper school. For information about looking for schools, see Course.

Safety
To avoid having money stolen from you:

- Keep your personal number private. Do not write it down, and do not tell anyone. If you lose your number and card together, you will not be able to recover any money that is stolen from your account. When you enter your personal number, stand in front of the machine and make sure that nobody can see the numbers you are typing. If someone is standing close behind you, ask the person to move. It may be safer to use machines inside bank branches and to avoid machines in busy areas (for example in stations and airports).

- Do not let anyone distract you before you have taken your card from the machine (for example, by talking to you, touching your shoulder, or dropping money); this may be done by a thief working together with a second person, who may take the card from the machine when it comes out. Do not let a stranger help you to use the machine, even if the card is kept.

- Only carry small amounts of cash with you; use cards or cheques to pay for larger bills. If you think your card may have been lost or stolen, report this immediately both to your card company and to the police; if a bank is open nearby, it may be able to give you advice.

- Check the daily withdrawal limit for your card. If it is high, make sure that your bank or insurance company will pay back any money stolen if you lose your card

- Do not use a machine that appears unusual in any way (for example, a machine in a strange location or with unusual instructions

- Be careful to make sure that you are not followed after taking money from a cash machine. A thief may have seen where you have put your wallet and may have seen how much money you have withdrawn. Avoid taking out money from machines in quiet areas when it is dark.
---

LINKS

Home page: Home

Back to top

© UK Student Life 2002-2011


---

* Search this website (www.ukstudentlife.com) or the web: