Study, work or travel in the UK. British culture and life.

Tours in the UK or Europe with Anderson Tours
---


Anderson Tours is a company based in London which organises day-trips and weekend tours throughout the year. There is a very wide range of destinations, both within the UK and in mainland Europe.

Before making a booking make sure that you have considered the following points:
(1) Trip destination and date
(2) Which departure point you want to use (see below for details)
(3) Visa requirements (for trips outside the UK) (see below for details)
(4) Accommodation requirements (for trips longer than one day) (see below for details)

Click on this link (or on one of the tour names below) to book a tour online from: Anderson Tours

Back to top


---
Anderson Tours offers the following trips (some of these are seasonal and may not be offered at present).
To find out the tour itineraries/dates and to book places online, click on the
Tour Name
links
To see photos and obtain information about the destinations, click on the
Locations visited
links
For a
list of tours
, see:
Travel/Tours/Dates
---

When you book your tour you will need to choose a departure point
This section gives information about the usual departure points used for Anderson Tours trips.
Please check the places and times carefully when you book.
Telephone 020 7436 9304 if you cannot come, are late, or cannot find the tour representative
(if you are waiting at the pick-up place, do not call before the time shown)


UK tours by coach

* Different meeting points apply for "small groups" trips (see below) *
Coaches are marked with the name "Anderson"
The destination is displayed in the front window (be careful: different trips may leave at the same time)
Note that the coach may be delayed by up to 15 minutes because of traffic or if a customer is late
| | | |
| --- | --- | --- |
| Time | Meeting points | Map |
| 7:30am | Tooley Street (outside London Bridge Hospital, opposite the London Dungeon) (Tube: London Bridge) (East London) | |
| 7:55am | Bus stop A, Euston Road (outside Camden Town Hall, opposite St Pancras station) (Tube: King's Cross St Pancras) (Central London) | |
| 8:10am | 122 Baker Street (outside McDonalds Restaurant) (Tube: Baker Street) (Central London) | |
| 8:25am | Outside Press Centre (Loading Bay) 292 Vauxhall Bridge Road SW1V 1AE - Opposite Argos (Tube: Victoria) (Central London) | |
| 8:50am | Harrington Road (outside Grosvenor Kensington Hotel) (Tube: South Kensington) (West London) | |
| 9:00am | Bus stop C, Warwick Road (Warwick Road Tube exit and cross the road) (Tube: Earls Court) (West London) | |
| | |
| --- | --- |
| Baker Street coach pick-up place | Harrington Road pick-up place |


UK small groups tours by mini-coach
* Your meeting point will be confirmed by e-mail or phone the day before the trip *


Time
Meeting points

Map

7:25-7:45am
A hotel in central London (zone 1 of the underground map). You need to give the address and postcode or:
An London Underground (LU) or National Rail (NR) train station in zone 1 (choose one from the list below)

-

Stations in zone 1 are (in alphabetical order):
Aldgate; Aldgate East; Angel; Baker Street; Bank; Barbican; Bayswater; Blackfriars; Blackfriars NR; Bond Street; Borough; Cannon Street LU; Cannon Street NR; Chancery Lane; Charing Cross LU; Charing Cross NR; City Thameslink; Covent Garden; Earls Court; Edgware Road; Elephant And Castle LU; Elephant And Castle NR; Embankment; Euston LU; Euston NR; Euston Square; Farringdon; Fenchurch Street; Gloucester Road; Goodge Street; Great Portland Street; Green Park; High Street Kensington; Holburn; Hyde Park Corner; Kings Cross NR; Kings Cross St Pancras LU; Kings Cross Thameslink; Knightsbrige; Lambeth North; Lancaster Gate; Leicester Square; Liverpool Street LU; Liverpool Street NR; London Bridge LU; London Bridge NR; Mansion House; Marble Arch; Marylebone LU; Marylebone NR; Monument; Moorgate; Notting Hill Gate; Old Street; Oxford Circus; Paddington LU; Paddington NR; Piccadilly Circus; Pimlico; Queensway; Regents Park; Russell Square; Sloane Square; South Kensington; Southwark; St Jamess Park; St Pancras; St Pauls; Temple; Tottenham Court Road; Tower Gateway; Tower Hill; Vauxhall LU; Vauxhall NR; Victoria LU; Victoria NR; Warren Street; Waterloo East; Waterloo LU; Waterloo NR; Westminster




European trips by Eurostar train
* The train will not wait if you are late! *
* Make sure that you bring your passport and have a visa if you need one *


Time
Meeting points

Map

check
Eurostar Departures Hall - next to self-service ticket machines, behind Marks & Spencer "Simply Food" shop,
near "Group welcome" desk at St Pancras International train station (Tube: King's Cross St Pancras)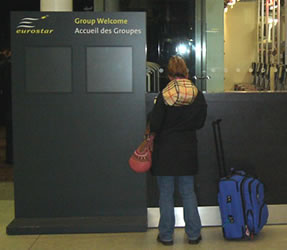 St Pancras International meeting point


UK tours by train (York, Edinburgh)

* The train will not wait if you are late!
*

| | | |
| --- | --- | --- |
| Time | Meeting points | Map |
| 7:30am | Inside King's Cross train station, in front of the entrance to WH Smith's bookshop (Tube: King's Cross St Pancras) | |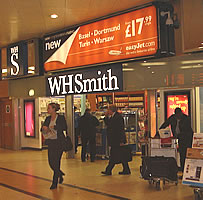 King's Cross meeting point
European tours by coach
* Make sure that you bring your passport and have a visa if you need one *


| | | |
| --- | --- | --- |
| Time | Location | Map |
| 6:00am | Bus stop C, Warwick Road (Warwick Road Tube exit and cross the road) (Tube: Earls Court) (West London) | |
| 6:15am | Bressenden Place in front of Portland House, opposite rear of theatre between Stag Place & Victoria Street (Tube: Victoria) (Central London) | |
| 6:30am | 122 Baker Street (McDonalds Restaurant) (Tube: Baker Street) (Central London) | |
| 6:50am | Lewisham House, Lewisham High Street (Lewisham) (South-east London) | |


European tours by air
* Make sure you arrive at least 10 minutes early *
* Make sure that you bring your passport and have a visa if you need one *
| | | |
| --- | --- | --- |
| Time | Location | Map |
| check | Bus stop C, Warwick Road (Warwick Road Tube exit and cross the road) (Tube: Earls Court) (West London) | |
| check | 122 Baker Street (McDonalds Restaurant) (Tube: Baker Street) (Central London) | |

You must carry your passport with you on trips outside the UK.

You should check if you need to obtain a visa before leaving the UK. If you need a visa, apply early - for some countries the process may take a long time. Some embassies (including France) require you to make an appointment, while others may allow you to go to the embassy and queue up. The following websites will help you to find out the rules and visa procedures for each country:

Belgium: http://www.vfs-be-uk.com
France: http://www.tlscontact.com/gb2fr
Germany: http://www.london.diplo.de/Vertretung/london/en/07/Visa/__Visabestimmungen.html
Holland: http://www.dutchembassyuk.org/consular/index.php?i=26

If you are not British, check that your UK visa allows multiple entry into Britain (so that you will be able to re-enter the UK at the end of the trip). You should carry any documents which you may need to prove what you are doing in the UK, where you are living, that you have enough money to support yourself, and that you intend to leave the UK before the expiry date of your visa. You will need to pass through immigration controls when you leave the UK and also when you re-enter.

Back to top


---

Tour prices for trips which involve overnight stays include accommodation. This is generally based on sharing a twin/double/triple-bedded room in a two-star hotel. You can request a single room during the booking process, but a supplement (usually about £30 per night) will be charged.

Back to top


---

The British pound can be used within England, Wales, Scotland or Northern Ireland.

Euros are used in the European destinations. For the exchange rate, click here: British Pound => Euro

Either euros or pounds can be used on Eurostar train services and on ferry crossings from England. You should obtain some euros before travelling, and make sure that you have enough cash, cards or travellers' cheques to cover your requirements. Many UK banks, post offices or bureaux de change can provide some euros immediately (at some smaller branches you may need to order them a day or two in advance). Note that if there is a "Cirrus" logo on your bank card, you will be able to use the card to obtain cash from many of the cash machines in Europe. If you are not sure, ask your card company where you will be able to use the card to withdraw money.

Keep at home the bank receipts for any English money and euros which you take with you. Keep receipts for any money which you withdraw while travelling, and keep these separately from your cash. You may need these if you lose your purse / wallet and have to prove how much cash you were carrying.

Back to top


---

Make sure that you have travel insurance which will cover you for your journey.

If you are from outside the UK you may have bought insurance before arriving in Britain: check that this will cover the trips you plan to make.

If you are from the UK you should apply for an European Health Insurance Card before travelling abroad within the EEA (European Economic Area). This card shows that you are entitled to free or reduced price emergency medical treatment. You can obtain the application form from a post office (you need to have a National Insurance number or NHS number). The card does not cover costs such as follow up medical treatment or repatriation, non-emergency medical treatment, personal liability, lost or stolen possessions or the cancellation or curtailment of your trip - so insurance is still necessary. For details, see: http://www.ehic.org.uk

Back to top


---

Further information is available on the Anderson Tours website

Back to top


---

LINKS

Tours: Travel/Tours

Home page: Home

Back to top

© UK Student Life 2002-2013