Study, work or travel in the UK. British culture and life.

Using London's bus and tram services
---

INTRODUCTION

This page provides basic information about using bus and tram services in London.


London by Bus
[bus map for central London]
Publisher: Quickmap Ltd
Date: October 2009

London all-on-one
[Tube, bus and walking map for central London]
Publisher: Quickmap Ltd
Date: January 2009
Back to top
---

PLANNING YOUR JOURNEY

Journey planning

To plan a journey by bus, Tube or train within London, use Transport for London's Journey Planner:
(1) Go to http://journeyplanner.tfl.gov.uk and click on "Journey planner"
(2) Enter the day and time you want to travel, your starting point and destination
(3) If you want to plan cheaper journeys which use only buses and not trains and the Tube, click on "More Options" at the bottom. Click on the boxes under "Means of Transport" until there is only a tick next to "London Buses"
(4) Click on the "Submit" button
(5) The four fastest options will be shown. Click on "Show these route details" for full information.

Maps

At a Transport Information Centre or at a bus station you can ask also for a free bus map for Central London, North West London, North East London, South West London or South East London. A map of Night Buses is useful if you may need to travel after midnight. You can also buy a Greater London Bus Map. Bus numbers are shown along the roads on which the buses travel, and are shown inside a box at the start and end of the route (note that some buses do not travel to the end of the route: check the destination shown at the front of the bus).
Online bus maps are available at: http://www.tfl.gov.uk/buses/buses_map.shtml.
To see a street map of the area around a bus stop, enter the road name (eg "Regent Street, London") or postcode in: http://maps.google.co.uk.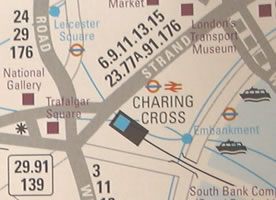 Bus map


Service problems

Note that traffic congestion is common, especially during the peak hours at 7:30-9:30am, 12-2pm and 4:30-6:30pm on weekdays, or in shopping areas during weekends. If a bus is full you will not be allowed to get on, but will have to wait for the next one. Always allow plenty of time for your journey if you need to keep an appointment.

For information about current problems on bus routes in London, see: http://www.tfl.gov.uk/tfl/livetravelnews/realtime/buses.

Back to top


---
TICKETS
| | |
| --- | --- |
| Oyster card | 1-day bus pass |

Tickets can be bought from ticket machines (next to bus stops in central London), at the ticket offices in bus or underground stations, or sometimes from some local shops such as newsagents (to find your nearest local ticket agents, see: http://www.tfl-ticketlocator.co.uk). The following tickets are available:

Cash is the most expensive way to buy bus tickets. If you change buses, you need to buy a new ticket for each journey. You cannot buy a "return" bus ticket in London. Outside central London you can buy a ticket by paying the driver when you get on the bus. For many buses in central London, you must buy a ticket before you get on the bus (use the ticket machine at the bus stop, or buy one of the tickets listed below).

Oyster pay as you go is the cheapest way to pay for single journeys on buses. Touch the card flat on the Oystercard reader (near the driver) when you get on. Make sure that you hear a beeping noise when you do this, as this means that your card has been accepted. If you do not have a bus pass or enough pay-as-you-go credit on your Oyster card you will need to pay the cash fare.
For details, see: http://www.oystercard.com.

A one-day bus pass allows you to make any number of bus journeys during the same day. You should buy one if you plan to make more than 3 bus journeys with Saver tickets or Oyster pre-pay, or if you plan to make more than 2 journeys using single bus tickets. You must buy one-day bus passes before you travel: you cannot buy them on a bus.

A bus pass period ticket (for 7 days, 1 month or 1 year) allows you to make any number of bus journeys during the period of the ticket. These period tickets are cheaper than buying one-day bus passes if you need to use buses frequently.

A discount bus pass period ticket (for 1 week, 1 month or 1 year) can be bought by people who have a Student Photocard. This pass is about 30% cheaper than an ordinary bus pass period ticket. For details about how to obtain a Student Photocard, see: Travel/Transport/London/Guide.

A travelcard is more expensive than a bus pass, but will allow you to use Tube, Tramlink, DLR and National Rail services in the zones specified, as well as bus services across the whole of London. For prices and other details about travelcards, see: Travel/Transport/London/Underground.

Back to top


---

TICKET PRICES (2013)

The following fares apply from 2 January 2013:


Bus fares in 2013

Adult

Student
(age 18+)

Single journey (on 1 bus or tram) paid using Oyster card (at all times)

£1.40

-

Single journey (on 1 bus or tram) paid by cash

£2.40

-

Oyster daily price cap (if using buses/trams only, paying using Oyster card)

£4.40

-

7 day bus/tram pass

£19.60

£13.70

1 month bus/tram pass

£75.30

£52.70

1 year bus/tram pass

£784.00

£548.00

Notes:
- Night bus fares are the same as the fares for daytime buses
- The Oyster daily price cap applies to journeys started between 4:30am one day and the same time the following day. It is the maximum amount you will pay if you only use bus services and pay using Oyster (even if you make 4 or more journeys)
- Holders of 18+ Student Oyster photocards pay approximately 70% of the adult fares for passes covering a period of at least 1 week (see the "Student" column above)
- Holders of 16-17, New Deal or Bus & Tram Discount Scheme Oyster photocards pay approximately 50% of the adult fares for passes covering a period of at least 1 week

Back to top


---

TICKET PRICES (2014)

The following fares apply from 2 January 2014:


Bus fares in 2014

Adult

Student
(age 18+)

Single journey (on 1 bus or tram) paid using Oyster card (at all times)

£1.45

-

Single journey (on 1 bus or tram) paid by cash

£2.40

-

Oyster daily price cap (if using buses/trams only, paying using Oyster card)

£4.40

-

7 day bus/tram pass

£20.40

£14.30

1 month bus/tram pass

£78.30

£54.80

1 year bus/tram pass

£816.00

£570.00

Notes:
- Night bus fares are the same as the fares for daytime buses
- The Oyster daily price cap applies to journeys started between 4:30am one day and the same time the following day. It is the maximum amount you will pay if you only use bus services and pay using Oyster (even if you make 4 or more journeys)
- Holders of 18+ Student Oyster photocards pay approximately 70% of the adult fares for passes covering a period of at least 1 week (see the "Student" column above)
- Holders of 16-17, New Deal or Bus & Tram Discount Scheme Oyster photocards pay approximately 50% of the adult fares for passes covering a period of at least 1 week

Back to top


---
BUS STOPS
A bus stop

in London

Ticket machine near a bus stop

in central London

The bus stops in each area are given a letter (in this case: Z) so you can find the correct bus stop.

If the bus sign is a red circle on a white background and it says "bus stop", the bus should stop if someone is waiting, unless the bus is full. If the sign is a white circle on a red background and it says "request stop", the bus will not stop unless someone at the stop raises a hand towards the driver (or if someone on the bus wants to get off there).

Bus stops are given names (in this case: "Baker Street Station"). In most buses there is an indicator board inside which shows the name of the next stop, and these may be announced as well.

The bus stop tells you in which direction buses are travelling (in this case: "towards Kensal Green or Paddington"). Make sure that you are waiting on the correct side of the road. There is a bus timetable and route map at many of the larger bus stops.

The bus numbers for the stop are listed (in this case: numbers 18, 27, 205, 453). Some buses run the same route both during the day and during the night: these services are marked with a "24 hours" logo. Night bus services which do not follow the same routes as services during the day start with an "N" (N18, N27 and N453 in this case). If the number is written on a yellow background, you must buy a ticket before you get on the bus.

Back to top

---

BUS ETIQUETTE

Below are some rules about correct behaviour when using buses in London:

- To avoid delays, get your ticket or cash ready before boarding the bus.

- Be fair when queuing for a bus. If there is a line then wait at the end of this. If there isn't a line, allow people who were there before you to board first when the bus arrives, and give priority to elderly, disabled or pregnant people, or those with young children.

- If the entrance is near the front of the bus, you buy a ticket from the driver or show your bus pass. If the same door is used as the exit, it is polite to say "thank you" to the driver when you get off (do not expect the driver to reply).

- On some routes there are special "bendy" buses which are longer than normal and have a flexible section in the middle which allows them to go around corners (see picture). You must already have a valid ticket before you get on this kind of bus - you cannot buy tickets from the driver. You must get on this kind of bus by the centre or rear doors.

- On other types of buses (except bendy buses) you must board using the front door (unless you are in a wheelchair). If there is a middle door this is used for getting off (if you get on here the driver will think you are trying to avoid paying).

- Allow people who are elderly, disabled, pregnant or have young children or lots of baggage to sit close to the exits. On a crowded double-decker buses, use seats on the upper floor if they are available (you are not allowed to stand there).

- Do not talk loudly to your friend or on your mobile phone, as it disturbs other people. If you are listening to music use headphones and keep the volume low - never play music out loud using speakers.

- Do not get angry with the bus driver if the bus is late - it probably isn't his/her fault. If you want to complain, contact the bus company later. Respect the bus driver's decision if you are told to stop doing something or to get off the bus.

- Do not try to get on a bus after the doors have been closed, for example by knocking on the doors. Wait for the next one instead.

- Do not distract the driver while the bus is moving, or ask to get off between bus stops.

- Smoking is illegal on buses (for safety reasons). If you are smoking when the bus arrives, put out your cigarette before getting onto the bus or wait for the next one.

- Do not eat on the bus, especially hot food or anything which gives off smells.

- You are not allowed to drink alcohol on a London bus. Throw away any opened cans or bottles of alcohol before you try to enter a bus.

- Make sure that you take all of your possessions with you when you leave the bus. If you have rubbish either use the bin on the bus (if it has one) or take it with you when you get off and throw it away in a bin on the street.

Back to top


---
ACCESS FOR DISABLED
| | |
| --- | --- |
| Automatic bus ramp | Getting on a bus |

Buses in London have low floors and a ramp (the exception is on two special routes which still use the old Routemaster buses). They should be accessible for people in wheelchairs. When you see a bus you should signal clearly to the driver as soon as possible, so that the bus can be moved close to the pavement and the ramp can be used safely. Press the special bell when you want to get off the bus (or tell the driver where you need to get off).

The Journey Planner described above allows you to plan journeys which avoid stairs, escalators or lifts, or which need wheelchair accessible vehicles (to select these requirements, click on "More Options").

For further information about the accessibility of buses in London, see: http://www.tfl.gov.uk/buses/travelinfo-accessibility.asp

Back to top


---

TRAMLINK


Tramlink is a tram service in south London. It currently links Wimbledon, Croydon, Beckenham and New Addington. You must have a valid ticket before you get on a tram. Travelcards are valid if they cover the necessary zones. Bus passes are valid on Tramlink. Ticket prices are the same as on buses. There are ticket machines at the tram stops. If you want a tram to stop, you need to raise your hand towards the driver. After each stop, the name of the next stop is announced; press one of the buttons at this time if you want it to stop there.

Back to top


---

FURTHER INFORMATION

For information about lost property, see: Travel/Transport/London/Guide.

If you need further information about London bus or tram services, try one of the following:
- the London Buses website: http://www.tfl.gov.uk/buses
- the Tramlink website: http://www.tfl.gov.uk/trams
- telephone London Travel Information on 0843 222 1234 (this service is available 24 hours a day).
- ask at a Travel Information Centre

The Knowledge of London website includes a page of information about the history of bus services in London: http://knowledgeoflondon.com/buses.html

Back to top


---

LINKS

Guide to London Transport: Travel/Transport/London/Guide
London Underground (the Tube): Travel/Transport/London/Underground

UK coach travel: Travel/Transport/Coach
UK tours: Travel/Tours

Home page: Home

Back to top

© UK Student Life 2002-2013


---

* Search this website (www.ukstudentlife.com) or the web: