Study, work or travel in the UK. British culture and life.

Using a taxi cab in the UK
---
INTRODUCTION

Taking a taxi can be the fastest and most convenient way of travelling from a station to your accommodation, or for taking you home safely at night. If you share a cab with other people, it is not always more expensive than other types of public transport.

A licensed taxi is a car which has been designed for the purpose of carrying paying passengers. Services are usually regulated by the local government. A taxi can be found at a taxi rank or can be called while on the road by raising your hand towards the driver (this is known as hailing a taxi). The taxi will not stop if it is busy (the light on top of the taxi will be off), or if there is no safe place to stop. Taxis cannot stop on roads with red lines painted on the edge. Most taxis are licensed to carry a maximum of 4 or 5 people (in some places there are also a few larger taxis which carry 7 or 8 people, and it may be possible to hire a minibus or coach for larger groups).

A minicab is a type of private hire vehicle. Usually it must be licensed by local authorities, but from the outside it may look like an ordinary unmarked car. Most minicab companies are safe and reliable, but you should be careful. A minicab must be booked in advance. You can order a minicab by telephone, or from outside the company's office. A minicab driver is not allowed to pick up customers directly from the road: if you do travel in a minicab that has not been booked you will not be covered by the vehicle's insurance, and you may be putting yourself at personal risk. If the vehicle doesn't have a meter inside you should make sure that the fare has been agreed before starting the journey.

It is better to book in advance if you want to take a minicab at busy times (for example, after 11pm (when many pubs start closing), or on an evening in December when there are many Christmas parties) or at unusual times (for example, early in the morning), or if you want to travel a long distance (for example, to an airport).

If someone comes up to you and asks if you want a cab, do not accept. These drivers may not have insurance, so you may not be covered if there is an accident. Occasionally people are robbed or attacked by people who pretend to be cab drivers, so always be careful, especially if you are a woman travelling by yourself.

Back to top
---

FINDING A TAXI

- Anywhere in the UK

You can find out if there is a licensed taxi rank at a train or underground station in the UK at: http://www.traintaxi.co.uk.

You can find a list of local companies by enter your postcode or town name in one of these pages:
- Yellow Pages (http://www.yell.com/ucs/UcsSearchAction.do?keywords=taxis)
- UpMyStreet (http://www.upmystreet.com/findmynearest/travel-transportation-and-accommodation/taxis-and-private-hire-listings-in-uk.html)

- London

In London a licensed taxi is known as a black cab (it is not always painted black). These taxis should be safe, and the drivers know London roads well.
Two of the largest licensed cab operating companies are Computer Cab (http://www.computercab.co.uk) and Radio Taxis (http://www.radiotaxis.co.uk).

There is a London service called Cabwise. If you text cab to 60835 you will receive the telephone numbers of one taxi company and two licensed minicab companies near to where you are. For details, see below:


CABWISE

Know what you're getting into
After a night out it's tempting to jump in the first 'minicab' you see on the street. But if you do this without a booking, there's no record of your journey or driver, and you could be putting yourself in danger. Follow the three steps below for the safest way to get a minicab, and get home.
* Book it: Book your minicab with a licenced minicab operator by phone, email or in a minicab office.
* Check it's yours: Make sure the driver can confirm your name and destination before you get in the car, and check the driver's photo I.D.
* Sit in the back: Always sit in the back seat, and carry your mobile phone in case of an emergency.
Minicab Facts
- Any minicab that isn't booked by phone, email or in a minicab office is illegal, dangerous and puts you at risk of attack, including sexual assault and robbery.
- Minicabs lined up outside pubs and clubs are breaking the law if they accept your fare without booking being made first. You must not approach minicab drivers, and any minicab driver that approaches you on the street anywhere is acting illegally. Do not get in.
- Only taxis (black cabs) can be stopped by customers and can pick you up off the street.
- Booking your minicab guarantees that your trip will be carried out by licensed, insured driver in licensed, insured vehicle. It also means that a record is kept of your journey, your driver and the vehicle used so, in the event of any problem, the driver can be traced.
How does Cabwise work?
Simply text CAB to 60835, and you will receive two minicab numbers and one taxi (black cab) number straight to your mobile phone. You don't even need to tell us where you are as we find your location using GPA. So save 60835 to your mobile now and it'll be there whenever you need it.
Text at 35p per enquiry plus standard text message rate. Roaming rates apply to overseas netowrks. Customers on the 3 network need to enter different information.
See http://www.tfl.gov.uk/cabwise for further details
Essential safety tips
- Plan your journey in advance as much as possible
- Keep your mind on your surroundings - listening to music or using your mobile can be distracting and dangerous
- Where possible, keep to brightly lit areas with other people nearby
- If you feel concerned about your safety on a bus you should close to the driver. If you are on the Tube or train, move to a carriage where there are other people
- Use help Points and passenger alarms on the Tube or train if you feel threatened
- In an emergency - call 999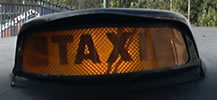 A taxi which is ready to be hired lights up the sign on top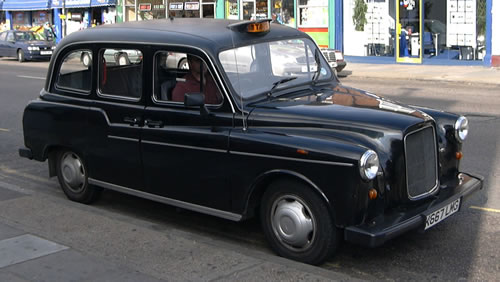 A London 'black cab'
---
USING A TAXI

Starting your journey
Tell the taxi driver exactly where you want to go. To avoid making a mistake, you may want to write down the address and give this to the driver (some places may sound similar, but are far apart). Make sure this is clear, perhaps by telling the driver the name of another place that is near where you want to go. For example, you might say, "Please take me to the Royal Opera House on Floral Street, near Covent Garden tube station".

According to UK law (and for your own protection) you should always wear a seatbelt.

Paying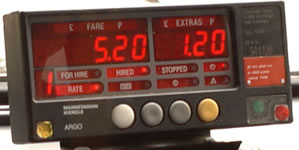 Taxi meter in a London 'black cab'
For a licensed cab, the cost is shown on a meter. If two numbers are shown (as in the picture), these are added together to calculate the total charge. The cost is more expensive after 10pm and during weekends. The taxi driver will tell you the total charge at the end of the journey. It is usual to add about 10% as a tip.

For example, if the total cost is 5 pounds 50 the taxi driver might say "That will be 5 pounds 50, please". You might reply by giving the driver a 10 pound note and saying "Could I have 4 pounds change, please?" (it is more polite to give a tip indirectly in this way). It is usual to pay by cash. Drivers may not carry much change, so you should try to give the exact money if you can, and avoid using large notes (50 pound notes may not be accepted).

If it is late and you feel unsafe, you may ask the taxi driver to wait until you have gone inside before driving off.

In a minicab there is no meter. To avoid any possible arguments, you should agree the cost of the journey before travelling (normally the company has a standard charge for each destination).

---
ACCESS FOR DISABLED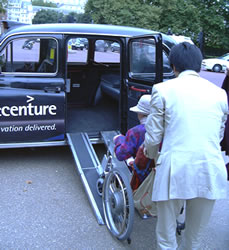 Using a ramp for a black cab


All black cabs in London can take wheelchairs and should provide a ramp. Not all drivers are used to dealing with disabled customers: it is possible that you may come across someone who refuses to take you or who says that the ramp is not available for some reason.

As well as black cabs, many other taxi and private hire companies also have vehicles which can take wheelchairs: contact the company directly to get more details.

Back to top


---

LINKS

Home page: Home

London transport: Travel/Transport/London
Diary of a wheelchair user's trip to London: Ideas/Diary/Akemi

Back to top

© UK Student Life 2002-2009


---

* Search this website (www.ukstudentlife.com) or the web: