Study, work or travel in the UK. British culture and life.

Chinese New Year Celebrations in London in 2006
2006: THE YEAR OF THE DOG
This photographs below were taken at the 2006 Chinese New Year celebrations in Chinatown.
[ for a guide to this year's Chinese New Year event, see:
Ideas/Album/ChineseNewYear
]
Can you spot the signs that 2006 was the Year of the Dog ...?

The streets just north of Leicester Square and east of Shaftesbury Avenue are known as London's Chinatown (part of the area called Soho). Many Chinese businesses and restaurants are located here. Lots of street stalls open for the Chinese New Year celebrations, and hundreds of red lanterns are hung up (red represents fire, which is believed to keep away bad luck and create prosperity).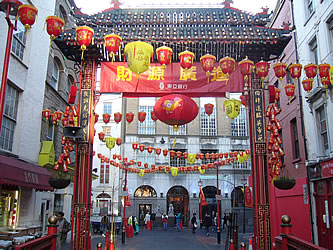 Gerrard Street
CHARING CROSS ROAD / TRAFALGAR SQUARE

The celebrations began with a Grand Parade from Charing Cross Road to Trafalgar Square.
In Trafalgar Square there was a traditional thanksgiving ceremony, followed by speeches.
The dragons' eyes were dotted and there were dances by the dragons and lions.
During the afternoon there were cultural performances on the stage.



Firecrackers and fireworks are let off in the centre of Leicester Square, first at 2pm and then at 5pm.
The traditional Chinese belief is that firecrackers scare away evil spirits.



For the second year, Sharwood's put on an event in Soho Square called "Wok The City".
After collecting a free noodle meal, the crowd enjoyed entertainment on the stage.

| | |
| --- | --- |
| Chopstick competition | Beijing Opera performer |
| | |
| --- | --- |
| Chinese Elvis performs Elvis' songs ... | ... with the moves as well |
Back to top


---

LINKS

This year's Chinese New Year celebrations: Ideas/Album/ChineseNewYear
Chinese New Year in 2008 (Year of the Rat): Ideas/Album/ChineseNewYear2008
Chinese New Year in 2007 (Year of the Pig): Ideas/Album/ChineseNewYear2007
Chinese New Year in 2005 (Year of the Rooster): Ideas/Album/ChineseNewYear2005
Chinese New Year in 2004 (Year of the Monkey): Ideas/Album/ChineseNewYear2004

Useful links for Chinese people coming to the UK: Links/China
Introduction to this website, in Chinese: Introduction/Chinese

What's on in the UK in January: Ideas/Events/January
What's on in the UK in February: Ideas/Events/February
Photos from other annual events: Ideas/Album

Home page: Home

Back to top

© UK Student Life 2002-2009


---

* Search this website (www.ukstudentlife.com) or the web: