Study, work or travel in the UK. British culture and life.

Chinese New Year Celebrations in London
2007: THE YEAR OF THE PIG
The Chinese New Year starts in January or February
(the date depends on the timing of the new moon).
In 2007 the Chinese New Year started on Sunday 18 February 2007.
In China this time is often known as the
Spring Festival
. People celebrate the end of winter with their friends and family and look forward to a happy and prosperous year ahead.
An animal is used to represent each year. It is said that Buddha asked the animals to meet him at the time of the Chinese New Year. Years are named after the twelve animals which came, repeated in a cycle every 12 years. It is believed that people born in each animal's year share some of the features of the animal's personality.
2007
was the
year of the pig
(or boar). People born in pig years (2007, 1995, 1983, 1971, 1959, 1947, 1935) love good company and good clothes. Although they are quick to lose their tempers, they calm down quickly as well and all is forgotten. They get on best with rabbits and rams, and worst with snakes. Their lucky numbers are six and seven, and water is their symbol. Some people also refer to 2007 as the
year of the golden pig
, which means that babies born this year will have especially good fortune. A golden pig year only occurs once every 600 years, according to Chinese folklore.

The 2007 Chinese New Year celebrations in Chinatown started with a grand parade.
The route began on The Strand (near Savoy Court) at 11am. It continued along St Martin's Place and Charing Cross, before turning into Shaftesbury Avenue.
The parade finished opposite Rupert Street at about 11:45am.

The town crier went in front to announce the coming of the parade ...



... followed by pigs ...



... money gods, performers in traditional costumes ...



... dragons ...



... musicians, dancers ...



... and lions



During the afternoon (from noon until 5pm) there were Chinese cultural performances on a stage in Trafalgar Square.

The timetable for stage performances in 2007 was as follows:
11:50 - Thanksgiving ; 12:00 - Opening ceremony / speeches ; 12:30 - Dotting of the dragons' eyes, and appearance of the money god ; 12:50 - Dragon/lion dances ; 13:00 - Guizhou Cultural Dance Troupe (1st performance) ; 13:30 - Jiangxi Cultural & Art Troupe (1st performance) ; 14:00 - Shaolin Monks (martial arts) ; 14:15 - Laure Chan (violin) ; 14:30 - Silk String Quartet ; 14:45 - Leonardo di Lorenzo ; 15:00 - Kut-O Chinese Association: drums ; 15:10 - Guizhou Cultural Dance Troupe (2nd performance) ; 15:40 - Nam Yang Pugilistic Association ; 15:55 - Laure Chan (violin) ; 16:10 - Kut-O Chinese Association: Chinese cultural dance ; 16:20 - Guizhou Cultural Dance Troupe (3rd performance)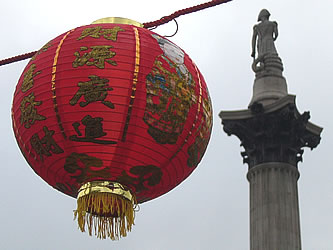 Chinese lanterns are put up around Trafalgar Square
| | |
| --- | --- |
| Thousands of people gather to watch the performances | A dragon dance on the stage |
The streets just north of Leicester Square and east of Shaftesbury Avenue are known as London's Chinatown (part of the area called Soho). Many Chinese businesses and restaurants are located here. Lots of street stalls open for the Chinese New Year celebrations, and hundreds of red lanterns are hung up (red represents fire, which is believed to keep away bad luck and create prosperity).
One of the gates

to London's Chinatown

The New Year is welcomed

in this restaurant's window

Souvenirs were sold from stalls around the squares and streets of Chinatown.

| | | |
| --- | --- | --- |
| These pigs might be able to fly | | This dragon toy is popular with children |
For further details about the Chinese New Year celebrations in Chinatown, see:
http://www.chinatownchinese.co.uk
For further information about
China in London
events, see:
http://www.visitlondon/china
Other China-related events in London in February and March 2007 include the following:
* On the evenings of Friday16 February and Saturday 17 February 2007 there is a Chinese New Year Spectacular at
Cadogan Hall
by a troupe of performers from Guizhou province (for details and to book tickets, see:
http://www.multitalent.co.uk
)
* On Saturday 17 February and Sunday 18 February 2007 from 11am-5pm there are free Chinese New Year celebrations at the
Victoria & Albert Museum
.
See:
http://www.vam.ac.uk/activ_events/community/chinese_prog/index.html
* Until Sunday 11 March 2007 there is a free exhibition of photographs exploring the lives of Chinese families in the UK. This is being shown in the Studio Gallery of the
National Portrait Gallery
. See:
http://www.npg.org.uk/live/wocherish.asp
* On Saturday 17 February 2007 there are several family events aimed at children at the National Portrait Gallery. See:
http://www.npg.org.uk/live/edfamilyevents.asp
* Between Sunday 18 February and Tuesday 27 February 2007 a series of films produced by the Shanghai Animation Studio will be shown at the
National Film Theatre
. See:
http://www.bfi.org.uk/incinemas/nft/seasons/shanghai
* On Monday 19 February 2007 there is a Chinese New Year Party at the nightclub
No1 Leicester Square
, featuring Djs from the radio station Kiss 100 (Dj free_key and Dj nibbler)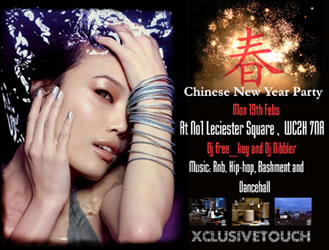 Back to top


---

LINKS

This year's Chinese New Year celebrations: Ideas/Album/ChineseNewYear
Chinese New Year in 2008 (Year of the Rat): Ideas/Album/ChineseNewYear2008
Chinese New Year in 2006 (Year of the Dog): Ideas/Album/ChineseNewYear2006
Chinese New Year in 2005 (Year of the Rooster): Ideas/Album/ChineseNewYear2005
Chinese New Year in 2004 (Year of the Monkey): Ideas/Album/ChineseNewYear2004

Useful links for Chinese people coming to the UK: Links/China
Introduction to this website, in Chinese: Introduction/Chinese

What's on in the UK in January: Ideas/Events/January
What's on in the UK in February: Ideas/Events/February
Photos from other annual events: Ideas/Album

Home page: Home

Back to top

© UK Student Life 2002-2009


---

* Search this website (www.ukstudentlife.com) or the web: