Study, work or travel in the UK. British culture and life.

Visiting the Home Office's Public Enquiry Office (PEO) at Croydon
---

INTRODUCTION
One method of extending a visa within the UK is to visit a Public Enquiry Office (PEO). The largest of the Public Enquiry Offices is in a building called Lunar House in Croydon (south-west of London). Other PEOs are located at Birmingham, Liverpool and Glasgow. For telephone numbers, addresses and other details, see: http://www.ukba.homeoffice.gov.uk/contact/applyinginperson.

This page describes how to get to Lunar House in Croydon and what to expect when you are there. It does not give any advice about making a visa application: if you need such advice you need to consult someone who is authorised to give this kind of guidance (for more information, see: Prepare/Visa).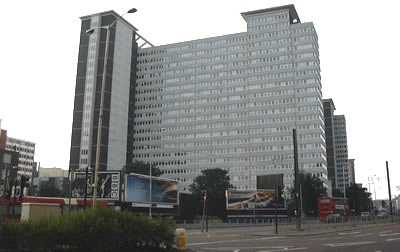 Lunar House
,
Croydon
Back to top
---

MAKING AN APPOINTMENT
Croydon has an appointments only system. To make an appointment, please call 0870 606 7766

Note that you can only apply at a Public Enquiry Office if there is less than 4 weeks before the expiry date of your visa.

Make sure that you understand what you will need to take with you. You should bring your completed application form (this is available online: for details, see Prepare/Visa), your passport, bank statements proving that you have enough money to live here, and any other documents which you need (these are listed on the application form). If you are a student you may need to bring a letter from your school showing that you have a good record of past attendance, and a letter showing that you have been accepted on a course of study. You will need to be able to pay the fees (check what methods of payment are accepted).

If you are visiting Croydon because you made a postal application but need to get your passport back urgently, make sure that you bring a note of the reference number given to you by the Post Office when you sent it (assuming that you sent it by recorded delivery).

Back to top

---

FEES

From 1st April 2007 there is a charge of £500 if you apply for a visa extension by going in person to an immigration office in the UK. You have to pay this charge even if your application is not successful. The normal way of paying is by debit or credit card, by personal cheque or by a postal order.

Postal applications are a cheaper method of extending your visa. Note that if you choose this method then you will not have your passport with you for several weeks while your application is being processed.

For further information about the charges and ways of paying see:
http://www.ukba.homeoffice.gov.uk/contact/applyinginperson/cost

Back to top


---

ACCOMMODATION IN CROYDON

You may need to find overnight accommodation in Croydon Unfortunately, there is not much cheap accommodation in the area. Prices are similar to elsewhere in London, and there aren't any places specifically for students or young people.

For information about accommodation in Croydon, contact Croydon Tourist Information Centre: http://www.croydononline.org.

There are some places offering bed and breakfast (usually costing between £25 and £50 per night). Sometimes this accommodation can be quite far from the centre of Croydon, so you might need to use a taxi if you want to get to Lunar House early in the morning. If you are booking accommodation and do not want breakfast because you need to leave very early, you can ask if there is a discount, or ask if some food can be left out for you overnight, or you might even ask if the landlord/landlady would mind preparing some sandwiches for you to take with you, instead of breakfast.

There are a range of hotels in Croydon. The ones which are closest to Lunar House are Fairfield Hotel and Jurys Inn. In 2002, the price of a single room in these hotels was about £60-£70 per night.

The YMCA in Croydon is not a suitable place to stay - it has a minimum stay of 6 weeks and is mainly used for housing homeless people. However, there is a YMCA in Wimbledon which accepts overnight visitors; the cost is about £30 per night for bed and breakfast in a single room. Either men or women can stay, and although it is a Christian organisation, it doesn't matter what religious beliefs you have. The building is on The Broadway, which is a short walk from Wimbledon's combined train, underground and tram station.

Back to top


---

TRAIN SERVICES

Lunar House is within a short walking distance of both West Croydon and East Croydon train stations (see the Walking section for a map and directions).

Trains operated by First Capital Connect which travel towards Brighton stop at East Croydon. These trains pass through the following stations in London: West Hampstead Thameslink, Kentish Town, King's Cross Thameslink, Farringdon, City Thameslink, Blackfriars and London Bridge. Note that the Thameslink stations at West Hampstead and King's Cross are a short walk away from the other railway or underground stations with the same name. There are some trains running on this line throughout the night. The night trains stop at West Hampstead Thameslink, King's Cross Thameslink and Blackfriars, but not at all of the other London stations on the line. Approximate train journey times: West Hampstead to East Croydon: 40 minutes; London Bridge to East Croydon: 15 minutes. For timetables and travel details, see First Capital Connect's website: http://www.firstcapitalconnect.co.uk.

There are frequent trains operated by Southern Railway from Victoria train station in London to either West Croydon or East Croydon. This may be particularly convenient if you are travelling by coach to London, as most coaches finish at Victoria Coach Station (see: Travel/Transport/Coach) (if you are travelling from Oxford, note that there are coach services operating throughout the night). During the night there are trains each hour from Victoria to East Croydon. Approximate train journey times: Victoria to East Croydon: 20 minutes; Victoria to West Croydon: 35 minutes. For timetables and travel details, see Southern Railway's website: http://www.southernrailway.com .

Southern Railway also provides a limited train service from Charing Cross, Waterloo East and London Bridge to East Croydon.

For general information about travelling by train in the UK, see: Travel/Transport/Train.

Back to top


---

BUS SERVICES
If you are living in London and you want to arrive very early in Croydon, you may consider taking a night bus to one of the railway stations from which there are night trains to East Croydon (see the Train section). Alternatively, you can take a night bus service to Croydon. The N68 leaves from Tottenham Court Road (stopping at Holborn, Aldwych, Waterloo and Elephant & Castle), or the N159 leaves from Marble Arch (stopping at Oxford Circus, Piccadilly Circus, Trafalgar Square, Westminster, Lambeth North and Brixton). It may be easiest to get off at West Croydon bus station, but you can also get off at the next stop on Wellesley Road. The journey usually takes about 60 minutes.

If you are travelling during the day, there is no direct bus service from central London. The best route is probably to take a bus first to Brixton underground station (for example, taking the number 2 from Victoria, or number 3 from Oxford Circus): this will take about 30 minutes. At Brixton, change to a number 109 to West Croydon bus station (or the next stop, Whitgift Centre): this part of the journey will take about another 50 minutes. Buy a one-day bus pass if you do not already have a bus pass. Going by bus during the daytime is cheap, but it is much slower than taking the train.

See the Walking section for details of how to get to Lunar House from the West Croydon or Whitgift Centre bus stops.
For links you can use to check bus routes and timetables and for other information about London buses, see: Travel/Transport/London/Buses.

Back to top
---

TRAM SERVICES

You may choose to stay overnight in Wimbledon before coming to Croydon, or you may find it convenient to start your journey by travelling to Wimbledon by underground (the District line) or by train (from Waterloo). The most convenient way to travel to Croydon from Wimbledon is to take the tram service number 1 (operated by Tramlink) from Wimbledon towards Elmers End. Get off either at West Croydon or at the next stop, Wellesley Road.

If you arrive by train at East Croydon station and do not wish to walk to Lunar House (a 10 minute walk), you can also take a short tram ride. Cross carefully to the other side of the road in front of the station: you can take either tram service number 2 (towards Beckenham Junction) or number 3 (towards New Addington). Get off about 5 minutes later at West Croydon, or at the next stop Wellesley Road.

See the Walking section for details of how to walk from East Croydon, West Croydon or Wellesley Road tram stops to Lunar House.
For more information about how to use Tramlink, see: Travel/Transport/London/Buses.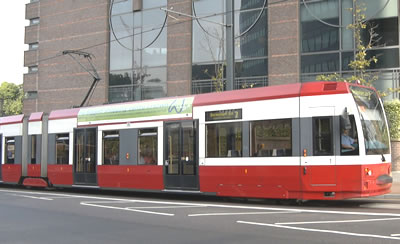 A tram on Station Road, West Croydon
Back to top
---

WALKING TO LUNAR HOUSE

While you are walking to Lunar House, look for signs like the one below. The Home Office is the government department which deals with visa applications from people who are already in the UK. Look both ways when you cross a road: trams may travel in either direction. Use the subways to cross Wellesley Road (in British English subways are passages which allow people to walk underneath roads). This is a busy road: people have been killed while trying to cross it directly.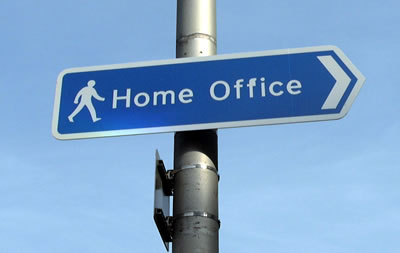 Signs for walking to Lunar House


There is a map below which shows the main walking routes (shown in blue) for walking to Lunar House (the location of the building is shown in red). The routes from the two main train stations are described (these routes also pass through all the main bus and tram stops). If you require a more detailed street map of Croydon, refer to a London A to Z map, or click: here.

Directions from East Croydon train station:
(estimated walking time: 10 minutes)

- When you leave the East Croydon train station, turn right.
- You should be able to see Lunar House (see the photo in the Introduction section) in the distance, on your right.
- Cross Dingwall Road
- Follow the road (George Street) down the hill until you reach a busy main road (Wellesley Road)
- Turn right, following Wellesley Road. You will see an underpass (a road which allows cars to travel underground) on your left
- Cross Walpole Road
- You will come to the tram stop called Wellesley Road
- Keep walking along Wellesley Road. You will see a blue sign outside a hotel called the Jury Inn.
- Cross Lansdowne Road. You will see the Fairfield Hotel
- You will come to a bus stop called Whitgift Centre (this is the indoor shopping centre you can see on the other side of the road).
- Keep walking along Wellesley Road, and cross Sydenham Road
- You should now be able to see Lunar House, the large building on your right
- There are public toilets on your left


Directions from West Croydon train station:
(estimated walking time: 5 minutes)

- When you leave the West Croydon train station, turn left and walk as far as the junction between this road (London Road) and Station Road.
- Turn left and start walking up Station Road
- You will come to the tram stop called West Croydon
- Cross the road and keep walking up Station Road
- You will pass the entrance to the West Croydon bus station on your right
- Keep walking along the right hand side of Station Road until you reach the end of the road
- Turn right along the busy main road (this is Wellesley Road)
- You should be able to see Lunar House (see the photo in the Introduction section) on the other side of the road, on your left
- Go down into a subway and use this to cross safely to the other side of Wellesley Road
- Continue walking along Wellesley Road in the same direction as before
- Cross the road called Bedford Park
- Lunar House is the building in front of you
- Note that there are some public toilets on your right

Back to top


---

INSIDE LUNAR HOUSE


Note that people who are not involved in the visa application are not allowed into Lunar House. If a friend is going with you, he/she could wait inside the Whitgift Shopping Centre (shown on the map above).

Once you have entered Lunar House there will be security checks (like in an airport) - your bags will be checked and you will have to walk through a metal detector (remove any keys, watches or jewellery before walking through). Cameras, tape recorders and mobile phones are not allowed inside the building: if you are carrying these, they will be kept safe until you leave.

You will then be interviewed briefly by someone and directed to the correct floor, where you must wait for your appointment.

The interview with an official may be similar to the type of interview you had when you arrived in the UK. Try to be honest and polite at all times, and do not get angry with the official if you do not get the decision which you want.

Back to top


---

LINKS
Getting a visa to enter the UK: Prepare/Visa

Home page (with frames): Home

Back to top