Booking
To book a tour with Bus Wales Tours, send an e-mail to:
info@buswalestours.com
. Please use the message title "
Tour enquiry (UK Student Life)
"
Private group tours can also be arranged for groups of up to 24 people (all year). The itinerary can be adapted to match your own studies or interests, and activities can be included if required. For details, send an e-mail to:
info@buswalestours.com
. Please use the message title "
Group tour enquiry (UK Student Life)
".
Payment
You pay for the tour by cash when you start. You will be asked for credit card details - these will only be used if you cancel.
Cancellation of bookings must be in writing or by e-mail (7 days notice - full refund; 4-6 days notice - 50% refund; 3 days or less notice - no refund).
Accommodation
You will need to pay for your accommodation when you arrive at each place (the cost of accommodation is not included in the tour price). The cost of a night in a hostel (which includes a light breakfast) is usually about £15 per person per night. You will probably need at least £10 per day for food (normally you will buy a picnic for lunch and have a pub meal / drink in the evening).
On Monday and Tuesday nights on the 3-day All Wales tour you normally stay in shared rooms in independent hostels along the route (from about £13 per night). If you prefer another type of accommodation, ask about other possibilities (for example: bed and breakfast).
On other nights you should stay in Cardiff. Among the cheapest options (from about £16 per night) are:
-
Cardiff Backpacker
hostel, 98 Neville Street, Riverside, Cardiff (
map
; the building is next to a busy road junction in central Cardiff: take earplugs with you if you are a sensitive sleeper).
-
YHA Cardiff
youth hostel, 2 Wedal Road, Roath Park, Cardiff CF14 3QX (
map
; the building is a short bus ride from central Cardiff).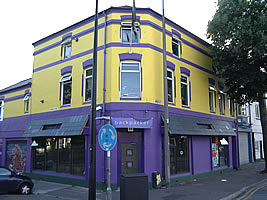 Cardiff Backpacker hostel
Things to take
Some things to take with you on the tour:
- sensible shoes (for walking in the countryside)
- umbrella / waterproof clothing / change of clothes (in case of rain)
- a torch (can be useful in the hostel when you go to bed, or if you stay in a farm hostel - not all roads have street lighting)
- a swimming costume, if you want to swim in the sea on a warm day (you can walk on the beach if you prefer)
Travelling to Cardiff
If you need to travel independently to Cardiff to join the tours, some of the options are:
- by
National Express coach
(for example: coaches from London Victoria Coach Station to Cardiff take about 3.5 hours)
- by
Megabus coach
(a cheap basic coach service from London to Cardiff)
- by
Train
(fast trains from London Paddington to Cardiff Central take about 2 hours)
Sightseeing in Cardiff
You may want to spend time in Cardiff before or after your tours. For further information about things to see and do in Cardiff:
Travel/Tours/Wales/Cardiff
.
Bank holiday weekends
Note that itineraries may be varied during bank holiday weekends to take account of the busier roads at these times. Details can be provided on request (for contact details, see the
Booking
section above).
Back to top