The photos below were taken at the 2012 switch-on event for the Regent Street Christmas Lights

Entertainment was provided by a choir, a cast member from the West End musical Matilda, classical musicians The Masque and Tine Thing Helseth, and the opera singer Noah Stewart.
The Christmas Lights were switched on by members of Team GB (the British competitors at the London 2012 Olympic Games and Paralympic Games).
The theme of the lights was the carol "The Twelve Days of Christmas"

| | | |
| --- | --- | --- |
| | John Suchet (Classic FM presenter) | |
| | | |
| --- | --- | --- |
| A choir sings carols | The choir's conductor | Performer from the musical Matilda |

The Masques
| | | |
| --- | --- | --- |
| Tine Thing Helseth (Norwegian trumpet soloist) | | Classic FM's Jamie Crick interviews Tine Thing Helseth |
| | | |
| --- | --- | --- |
| | Noah Stewart (opera singer) | |
| | |
| --- | --- |
| Team GB medallists join Noah Stewart on stage | London 2012 gold medals |
| | |
| --- | --- |
| Team GB medallists switch on the lights | Fireworks |
| | |
| --- | --- |
| 2012 Regent Street Christmas Lights | On the 12th day of Christmas, my true love sent to me ... |
| | |
| --- | --- |
| 12 drummers drumming | 11 pipers piping |
| | |
| --- | --- |
| 10 lords a-leaping | 9 ladies dancing |
| | |
| --- | --- |
| 8 maids a-milking | 7 swans a-swimming |
| | |
| --- | --- |
| 6 geese a-laying | 5 gold rings |
| | |
| --- | --- |
| 4 calling birds | 3 French hens |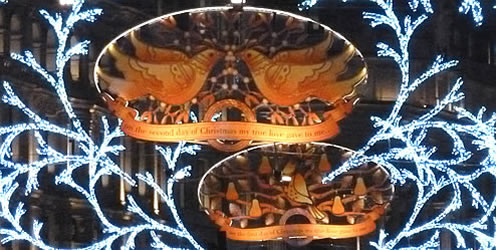 2 turtle doves
... and a partridge in a pear tree